FT review 1
FT review 2
Guardian review 1
Guardian review 2
Independent review
Independent on Sun review
Observer review
Spectator review
Spectator review II
Stage review
Sunday Telegraph review
Sunday Times review
Telegraph review
Times review
Loading
The Seagull
by Anton Chekhov
Royal Shakespeare Company
The Seagull
by Chekhov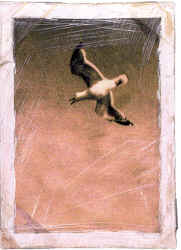 Swan Theatre, 30 January 2000
"One must show life not as it is, nor as it should be, but as it appears in our dreams"

Written in 1896, Chekhov's play of life and art astonished the old century as it heralded the birth of modern drama in the new. As then, so now: The Seagull bursts into the twenty-first century with the burdens of the past bearing witness to the freedoms of the future.
In a new translation by Peter Gill commissioned by the Royal Shakespeare Company.
The action takes place on Sorin's estate.
Two years elapse between Act 3 and Act 4.
Credits
Medvedenko
Mark Hadfield
Dorn
Richard Johnson

Richard Johnson is a founder member and Associate Artist of the RSC whose numerous film and television roles include Turtle Diary, The Camomile Lawn, Breaking the Code and Linda LaPlante's Supply and Damand. On stage he originated the role of Grandier in The Devils and appeared on Broadway in The Complaisant Lover by Graham Green.

Konstantin
John Light
Sorin
Richard Pasco

Richard Pascoe has worked extensively for the RSC and Royal National Theatre for whom he starred in An Inspector Calls, Racing Demon and Sweet Bird of Youth. His many film roles include Mrs. Brown, Rasputin and Room at the Top. He has also recorded Shakespeare's complete sonnets with Sir John Gielgud. Richard Pascoe is an Honorary Associate of the RSC.

Shamrayev
Barry Stanton
Nina
Justine Waddell

has just appeared in the major new BBC drama, Wives and Daughters.

Arkadina
Penelope Wilton

also starred in Adrian Noble's The Cherry Orchard

Director
Adrian Noble
Designer
Vicki Mortimer
Lighting Designer
Paule Constable
Sound
Mic Poole
Music
Mia Soteriou
Assistant Director
William Glynne
Company voice work
Andrew Wade/Charmian Hoare
Production manager
Jasper Gilbert/Roy Hansen
Stage Manager
Suzi Blakey
Deputy Stage Manager
Lynda Snowden
Assistant Stage Manager
Chris Lake