Loading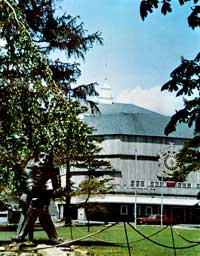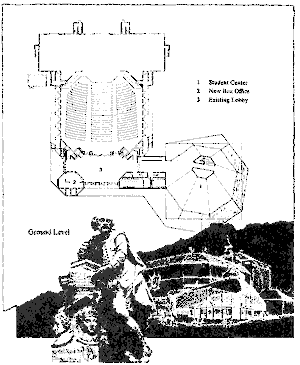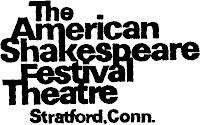 Much Ado About Nothing
by Shakespeare
18 June 1969
See also 1981 National Theatre production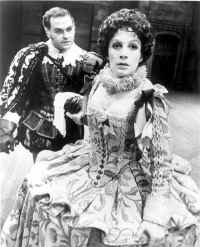 Don Pedro of Aragon, his half-brother Don John, Claudio and Benedick return to Messina from a victorious battle and are greeted by Leonato the Governor, his daughter Hero, and niece Beatrice. Claudio confesses that he is in love with Hero. Benedick, marriage's professed enemy, cannot bring Claudio to his senses and Don Pedro promises to woo Hero for him. Don Pedro has forgiven Don John his recent rebellion against him, but Don John is still resentful. When Conrade tells him of Claudio's love, he wishes to thwart the match. Leonato speaks to Beatrice about getting a husband, who scoffs at the possibility of finding a suitable man. Beatrice and Benedick converse and she (pretending not to recognize him) paints a ludicrous picture of him. Don John makes Claudio fear that Don Pedro is wooing Hero for himself, but Claudio is reassured, when Pedro reports that Leonato has given his consent to the match. Leonato and Don Pedro agree that Benedick would be a proper husband for Beatrice, and Claudio and Hero promise to help bring the pair together. Don Pedro, Claudio, and Leonato stage a conversation, pretending concern at Beatrice's passion for Benedick. Benedick is completely taken in, and resolves that he shall respond to Beatrice's love. Hero and her attendant Ursula entrap Beatrice in the same manner, and Beatrice vows to return Benedick's love. Borachio, a friend of Don John's, has staged a rendezvous with Hero's attendant, Margaret, dressed in Hero's clothes, and has convinced Don Pedro and Claudio that Hero is unchaste.
Dogberry, a constable, and his assistant, Verges, assemble the watch who hear Borachio boast of his part in ruining Hero's reputation. Borachio and Conrade are arrested. The company assembles for the wedding. Angrily, Claudio charges Hero with unchastity and departs. Beatrice and the friar are certain of Hero's innocence. The friar advises Leonato to report Hero's death. Benedick, touched by Beatrice's distress for her cousin, avows his love and she confesses her own love for him but asks him to prove his by killing Claudio, which Benedick reluctantly agrees to do. Benedick tries to challenge Claudio, who refuses to take him seriously. The two prisoners are brought in, and confess Don John's plot. Leonato suggests that Claudio show his repentance by marrying his niece, who is almost identical in appearance to Hero, and Claudio assents. The penitent Claudio places a memorial on the monument where Hero's body supposedly rests. He and Don Pedro then prepare for the wedding, and Benedick takes the opportunity of arranging for his marriage to Beatrice. Hero is presented to Claudio disguised, but when he takes her hand, she reveals herself. After this happy revelation, Benedick and Beatrice discover their mutual mistake in thinking the other was pining for love, but both are satisfied with the outcome and Benedick calls for a dance before the marriage ceremony.
"LIVELY AND BRIGHT. . . the staging by Peter Gill is consistently engaging . . . I felt a repertory sense in the actors, an interplay among them that belied the comparatively short time they had been working together ...The performance has a welcome freshness about it... Enjoyable is a good enough note upon which to leave this second Stratford production."
- CLIVE BARNES, N. Y. Times
"SPLENDID AMUSEMENT FOR A HOT SUMMER'S EVENING."
- BILL SLOCUM, Hearst Headline Service
"Much Ado About Nothing is a smashing success. . . A perfectly grand production. Charles Cioffi, Patricia Elliott, Tony van Bridge and Len Cariou are most impressive."
- MARILYN STASIO, Cue Magazine
"THE AMERICAN SHAKESPEARE FESTIVAL IS DOING RIGHT IN ITS LAUGH-PROVOKING MUCH ADO ABOUT NOTHING."
- MARY CAMPBELL, Associated Press
"American Shakespeare Festival's new hit: Heartily amusing . . . Never flags in fun . .. Tony van Bridge's Dogberry ranks with the best ever and he made the scenes with the 'watch' as outrageously funny as anything in Plaza Suite... Roberta Maxwell is pert and pretty. . . As a bonus to delight the ear, Al Carmines has invented magical music. One of the most agreeably entertaining productions ever staged at our American Stratford."
- ELLIOT NORTON, Boston Record American
"Peter Gill's staging of Much Ado About Nothing manages to draw comedy, trenchancy and a solid theatricality from values inherent in this view of the battle of the sexes ...The dialogue's delicious involutions are read deftly and vibrantly. The principals, especially Beatrice and Benedick, seek out the multiple feeling with a psychological credibility quite remarkable for so fanciful a plot."
- ALAN BUNCE, Christian Science Monitor
There will be 2 intermissions
Credits

| | | | |
| --- | --- | --- | --- |
| Leonato | William Glover | WILLIAM GLOVER was seen as Don Armado in Love's Labour's Lost during our 1968 Fall student season immediately following his successful engagement at the Old Globe Theatre in San Diego where he played Jaques in As You Like It and the First Gravedigger in Ellis Rabb's production of Hamlet. Mr. Glover began his professional career in his native England, emigrated to Canada to work for two seasons with the Stratford Shakespeare Festival, and moved to California in 1965 to appear in the Center Theatre Group's productions of The Devils, Poor Bitos, Yeats and Company, playing the part of the poet, and in the national tour of The Deputy, playing Pius XII. His Broadway credits include Ross with John Mills; on television, he is regularly featured on Garrison's Gorillas. | |
| Messenger | Tony Thomas | TONY THOMAS, since graduation from Temple University, has been busy with film, television and theatre work in New York City and Washington, D.C. He made his Off-Broadway debut with the Shakespeare Festival in 1966 in Henry V and The Taming of the Shrew, and in February completed another engagement with Joseph Papp at the NYSF Public Theatre as the Human in Cities in Bezique. Mr. Thomas has also been seen in Off-Broadway productions of Antigone, A New Life, and Please Keep Off the Grass. Last season, he joined the National Repertory Theatre for John Brown's Body, She Stoops to Conquer, and Comedy of Errors. | |
| Beatrice | Patricia Elliott | PATRICIA ELLIOTT, a native of Denver, makes her Stratford debut following a successful engagement with the Repertory Theatre of Lincoln Center as Regan in King Lear with Lee J. Cobb, and in A Cry of Players with Anne Bancroft. While attending the London Academy of Music and Dramatic Arts in 1963, Miss Elliott assisted Wendy Hiller and Susannah York with their American accents for Wings of a Dove at the Haymarket Theatre. In 1964, she appeared at The Cleveland Playhouse where her several roles included Antigone and Major Barbara. At the Front Street Theatre in Memphis, she received critical ac= claim for her strong portrayal of Lady Macbeth. During two seasons at the Minnesota Theatre Company of the Tyrone Guthrie Theatre she was featured as Kate Hardcastle in She Stoops to Conquer, Celia in As You Like It, Chorus Leader in The House of Atreus: The Libation Bearers, and in seven subsequent productions. She then appeared as Irina in The Three Sisters at the Mineola Playhouse; last summer audiences at the Eugene O'Neill Foundation in Waterford saw her work in three new plays. Miss Elliott resides in New York City. | |
| Hero | Roberta Maxwell | ROBERTA MAXWELL is a versatile actress with impressive credits in the classical and contemporary repertory in London, Canada, and the United States. Miss Maxwell came to New York with the Broadway hit The Prime of Miss Jean Brodie and then joined the Tyrone Guthrie Theatre in Minneapolis appearing in Sargeant Musgrave's Dance, Merton of the Movies, Little Murders, and two plays which later toured Los Angeles and New York, The House of Atreus and Arturo Ui. A native of Canada, Miss Maxwell was a member of the Stratford Festival Company where her roles included Ursula in Much Ado About Nothing, Lady Anne in Richard III, Olivia in Twelfth Night, and Anne in The Merry Wives of Windsor. She spent three years in England working in repertory and on British television networks and made her West End debut in A Majority of One, with Robert Morley and Molly Picon. She is also interested in unicorns. | |
| Don Pedro | Len Cariou | LEN CARIOU, a warmly-welcomed newcomer to Stratford, was a featured member of Minnesota's Tyrone Guthrie resident company this past season, receiving critical kudos for his performance of the title role in Sargeant Musgrave's Dance, for Orestes in The House of Atreus (which played on Broadway last December), and for Feste in Twelfth Night. A native of Winnipeg, Canada, Mr. Cariou made his professional debut with the Rainbow Stage Musical Theatre there, and later joined the Manitoba Theatre Centre Company, where his roles included Nick in Edward Albee's Who's Afraid of Virginia Woolf? with Kate Reid and Donald Davis, directed by John Hirsch. For three seasons, Mr. Cariou was a member of the Stratford, Ontario Shakespeare Festival, playing various roles in Richard Il, Cyrano de Bergerac, Comedy of Errors, and Troilus and Cressida; at the Avon Theatre, he was hailed as Moneybags Bill in Brechts Mahagonny. GuthrieTheatre audiences enjoyed his work in The Skin of our Teeth and As You Like It (1966) and The Orestia (1967); more recently, Mr. Cariou played lago to James Earl Jones' Othello at the Goodman Theatre. | |
| Benedick | Charles Cioffi | CHARLES CIOFFI won critical acclaim last season at Stratford for his portrayals of Bolingbroke in Richard II, Ferrovius in Androcles and the Lion, and the Good Duke in As You Like It. This season, he made his debut with the Repertory Theatre of Lincoln Center as the Duke of Albany in King Lear and also covered for Lee J. Cobb in the title role; this past Spring, he was cast as Major Radzi in their premiere production of In the Matter of J. Robert Oppenheimer. Prior to Stratford, Mr. Cioffi was a member of the Minnesota Theatre Company at the Tyrone Guthrie Theatre in Minneapolis for three seasons, playing a wide range of roles from the classical repertoire. During two seasons with Cincinnati's Playhouse in the Park, he was featured in the American premieres of Henry Livings' Eh? and Anouilh's The Cavern. He has also appeared with the Hartford Stage Company and the Long Wharf Theatre, where he was featured in the American premiere of Thomas Murphy's A Whistle in the Dark. | |
| Don John | Michael McGuire | MICHAEL McGUIRE, who is appearing at Stratford's Festival for the first time, boasts a diversified acting background. A native of Wisconsin, Mr. McGuire began his career at the Court Theatre in Beloit, Wisconsin and was a leading actor for five years at the Cleveland Playhouse. His work has been enjoyed by audiences at New Haven's Long Wharf Theatre, Philadelphia's Theatre of the Living Arts, the Syracuse Repertory Theatre and the Olney Theatre in such roles as Vanya, Ernest, and Hamlet, last Fall. For the New York Shakespeare Festival, Mr. McGuire was featured in Henry V, Coriolanus, King John, Troilus and Cressida, and played Macbeth for N.Y.S.F.'s Mobile Theatre. He appeared on Broadway in Paddy Chayefsky's The Passion of Joseph D and Off-Broadway as Ekhart in Baal, Edward Northcutt in A Sound of Silence, and Jacque in The Burning. Last Fall Mr. McGuire played Somlo in Tabori's The Cannibals at the American Place Theatre and will be seen in the forthcoming films Coming Apart and The Way We Live Now. | |
| Claudio | Robert Foxworth | ROBERT FOXWORTH launched his theatrical career at the age of ten at Houston's Alley Theatre — the first in a series of successful engagements with several of the nation's most important resident theatres. At the Front Street Theatre in Memphis, Tennessee, and at the Sharon Playhouse in Connecticut, Mr. Foxworth played in The Hostage, The Country Wife, Juno and the Paycock and others. Three seasons with the Arena Stage in Washington followed during which thisversatile actorwas cast in some twenty productions, playing such roles as Private Hurst in Sargeant Musgrave's Dance, the M.C. in Oh, What a Lovely War, and Morris in The Blood Knot with James Earl Jones. More recently, more Northern audiences have enjoyed his work in The Lion in Winter at Buffalo's Studio Arena Theatre; at the Charles Playhouse in Boston, in Everything in the Garden; and in the all-star production of Our Town at Long Island's Plumstead Playhouse with Henry Fonda. | |
| Balthasar | Fredrick Rivera | FREDERICK RIVERA studies with Stella Adler and has been seen Off-Broadway in The White Liars, The Odd Couple, Black Comedy, and Region of the Cross at such theatres as the Circle in the Square. Mr. Rivera is also an experienced singer who studied voice with John Bartis and has appeared at New York's Upstairs at the Duplex and One Fifth Avenue. | |
| Antinio | Wyman Pendleton | WYMAN PENDLETON, an actor with wide experience in both the classical and contemporary repertory, was seen by Broadway audiences this season as Mao Tse-Tung in the premiere of Edward Albee's Box-Mao-Box, and in Happy Days. Previous New York credits include Malcolm arid Tiny Alice on Broadway, and Zoo Story, The American Dream, and the French production of Happy Days Off-Broadway. A graduate of Brown University, Mr. Pendleton appeared in three plays with the Theatre Company of Boston two seasons ago, and in 1965 and 1966 with the Dartmouth Repertory Company, where his Shakespearean roles were Julius Caesar, and John of Gaunt in Richard II. During the 1968 Inaugural Season of the National Repertory Theatre at Ford's Theatre in Washington, D.C., he earned acclaim for roles in John Brown's Body, Comedy of Errors, and She Stoops to Conquer. | |
| Antinio's son | Toby Tompkins | TOBY TOMPKINS comes to Stratford directly from the Broadway hit musical Man of La Mancha in which he played an Inquisitor. His first job in theatre was at the Williamstown Summer Theatre where he met his wife, actress Louise Shaffer, with whom he toured the New York neighborhoods in the Broadway-in-the-Streets program last summer. A graduate of the Yale School of Drama, Mr. Tompkins has appeared Off-Broadway in Yellow Jack and The Remaking of Audience; in Boston Herald-Traveler productions of Romeo and Juliet and The Rivals; in the Great Lakes Shakespeare Festival productions of The Taming of the Shrew, Henry VI, and Hamlet; and as Ernie in the film The Hang-Up. An accomplished lutanist and guitarist, Mr. Tompkins toured Connecticut in 1968 in the musical Liar, Liar for Project Learn. | |
| A Boy | Kristoffer Tabori | KRISTOFFER TABORI, a newcomer to Stratford, made his Broadway debut last Fall in the Repertory Company of Lincoln Center premiere of A Cry of Players, which starred Anne Bancroft and focused on the life of Shakespeare. His most recent challenge was playing John the Boy Scout in the new Mia Farrow - Dustin Hoffman film, John and Mary. Other film credits include Sweet Charity, with Shirley MacLaine, Coogan's Bluff, Affair of the Skin, and Weddings and Babies. Mr. Tabori has appeared Off-Broadway in Strolling Players with Viveca Lindfors, in Guns of Carrar, and Emil and the Detectives; he also worked with the Berkshire Festival Theatre in Stockbridge, Mass. for a summer season. | |
| Conrade | Carl Strand | CARL STRAND, who was a member of the Festival company last season, has worked OffBroadway in No Exit and To Change a River, and has played a wide variety of roles in stock, regional, and repertory theatre. Mr. Strano holds a degree from the University of Florida, and studied acting at the Circle in the Square, and with Bill Hickey and Gilbert Lazier. Television character roles include Adam in An Evening with Mark Twain; radio credits include the narration of a documentary focusing on James Agee. | |
| Borachio | Roger Omar Serbagi | ROGER OMAR SERBAGI appeared at Stratford three seasons ago in Julius Caesar, Twelfth Night, and understudied Falstaff and played Bardolph in Henry IV, II. In the interim, he appeared Off-Broadway as Joe Carter in A Certain Young Man, and spent two seasons with the Barter Theatre in Abingdon, Virginia, playing Mercutio in Romeo and Juliet, the Gravedigger and the Player King in Hamlet, Harry Roat in Wait Until Dark, Davies in The Caretaker, and featured roles in the hit Neil Simon comedies, Barefoot in the Park, The Odd Couple, and Luv. This past Fall, he was seen at the neighboring Long Wharf Theatre as Geronte in The Doctor in Spite of Himself. Mr. Serbagi began his career with the New York Shakespeare Festival and later toured with the National Performing Arts Company in A Man for All Seasons. | |
| Margaret | Mary Doyle | MARY DOYLE has worked with the New York Shakespeare Festival and joins the company here for her first season. She made her Broadway debut as an understudy in Bus Stop, and later played the Girl — the ingenue lead — in The Cave Dwellers, also on Broadway. At the Circle in the Square, Miss Doyle was in Wilder's Plays for Bleeker Street and House of Breath, and starred as Beatie Bryant in the Off-Broadway production of Roots by Arnold Wesker. In regional theatre, Miss Doyle has been a valued member of the repertory companies at Milwaukee, Trinity Square in Providence, where she played the title role in Saint Joan, and the McCarter Theatre in Princeton, N.J. Last summer she appeared in the musical New York and Who to Blame it On, for the APA. | |
| Ursula | June Prud'homme | JUNE PRUD'HOMME has had a diverse professional career since her first radio engagement at age thirteen. Broadway audiences have seen her most recently in Peter Ustinov's comedy, Halfway Up the Tree and with Maurice Evans in his revival of Richard II at City Center. Her numerous television appearances include Hamlet, Little Moon of Alban on the Hallmark Hall of Fame, the serials The Doctors and The Guiding Light, and some two dozen commercials. In fifteen seasons of Summer and Winter stock, Miss Prud'homme has played playhouses from Connecticut to Florida. On more distant stages, she has played with the U.S.O. overseas. She was also heard for two years on NBC radio in Hollywood and in her native San Francisco, and is the daughter of actor Cameron Prud'homme. | |
| Servants | James Davis | Fellowship Program | |
| | Michael Diamond | Fellowship Program | |
| | James Nichols | Fellowship Program | |
| | Frank Cossa | Fellowship Program | |
| Dogberry | Tony van Bridge | TONY van BRIDGE, a newcomer to the American Shakespeare Festival Company made an impressive New York debut last year with the Repertory Company of Lincoln Center as the Bishop of Beauvais in Saint Joan which was followed by his portrayal of Ulysses in Tiger at the Gates. In April, Mr. van Bridge completed an engagement at the Beaumont, where he was hailed for his portrayal of Jacob Lehmann in In the Matter of J. Robert Oppenheimer. This winter, much national critical attention was focused on his portrayal of Galileo in the production of Brecht's play that opened Houston's new Alley Theatre. A graduate of the Royal Academy of Dramatic Art, Mr. van Bridge was a member of the Old Vic Company from 1951 to 1954, and later became one of the Canadian Shakespeare Festival's most valued actors, winning especial praise for his portrayal of Falstaff in Henry IV, I, II and in The Merry Wives of Windsor. He has been seen as Captain Shotover in Heartbreak House at the Shaw Festival, a performance later repeated for Caedmon Records | |
| Verges | Joseph Maher | JOSEPH MAHER is a native of Ireland who went to Canada to make his theatrical debut in an Irish play, Juno and the Paycock. After a season with the Theatre Company of Boston and the San Diego Shakespeare Festival, Mr. Maher was featured on Broadway as Margaret Leighton's son in The Chinese Prime Minister, and was seen this season as Gordon Lowther in The Prime of Miss Jean Brodie. He has also been seen Off-Broadway in Eh?, Live Like Pigs, The Importance of Being Earnest, and The Hostage. Directorial credits include Dear Liar, for the ANTA Convention, Beyond the Fringe, in stock, and a workshop production of his own play, The Pedestal. Mr. Maher also co-adapted No. 7 Eccles Street from Joyce's Ulysses with the help of Irish actress Anna Manahan and has appeared on TV on Hallmark Hall of Fame and the Merv Griffin Show. | |
| First Watch | Riggs O'Hara | RIGGS O'HARA of Brooklyn went to London for his first job in theatre in West Side Story. He decided to remain there for two years to further his career and made four films, The Victors, Beckett, Promise Her Anything, and the forthcoming The Virgin Soldiers, and also made several television appearances. More recently, he applied his talents to the role of Puck in A Midsummer Night's Dream at the Edinburgh Festival, and also was the only American cast in the soon-to-be-shown all-star color TV production of Twelfth Night, with Sir Alec Guiness, Sir Ralph Richardson, and Joan Plowright. | |
| Second Watch | William Hickey | WILLIAM HICKEY, whose name appears in so many other actors' biographies as an acting teacher at the HB Studio, returns for his fourth season at Stratford. Just prior to his appearances as Costard in Love's Labour's Lost and as the Centurion in Androcles and the Lion, he was featured on national television in the popular Richard Rodgers musical version of Shaw's classic in the role of the Menagerie Keeper. His first role on Broadway was in St. Joan, which starred Uta Hagen, and he has since made countless appearances there in such plays as Hatful of Rain, Tovarich, As I Lay Dying, Miss Lonelyhearts, and Make a Million. He is remembered Off-Broadway for the Cole Porter Revue, Not Enough Rope, and On the Town, and as a featured player in the films The Boston Strangler, The Producers, A Hatful of Rain, Operation Mad Ball, and Invitation to a Gunfighter. | |
| Watch | Davidson Lloyd | Fellowship Program | |
| | Michael Donaghue | Fellowship Program | |
| | Gary Poe | Fellowship Program | |
| Friar Francis | James Greene | JAMES GREENE is an experienced veteran of countless Broadway productions, including The Andersonville Trial, Shadow of a Gunman, Compulsion, Inherit the Wind, Girl on the Via Flamina, Romeo and Juliet, and Night Life. He has also played a wide variety of featured roles in Off-Broadway productions of The Iceman Cometh, American Gothic, The King and the Duke, Desire Under the Elms, The Hostage, Moon in the Yellow River, Misalliance, and a program of One-Act plays by Thornton Wilder. Mr. Greene has spent the last five years working in repertory, at the APA - Phoenix, and at Lincoln Center. He is married to APA actress Betty Miller and spends many of his free hours as a long-distance runner for the New York Pioneer Club track team. | |
| Sexton | Mervyn Haines Jr. | MERVYN HAINES, JR. comes to Stratford with considerable experience in Shakespearean acting. Most recently, he was seen as Lear's Knight in King Lear and as Berry in A Cry of Players at the Repertory Theatre of Lincoln Center. He has also been featured at Shakespearean Festivals in New York City; in the Catskills (Hamlet, A Midsummer Night's Dream, and Macbeth); and at Lake Champlain (Richard III, Julius Caesar, and Measure for Measure). New York Off-Broadway credits include Study in Color and Boy, for Theatre Genesis; Dilemma, Katz's Poem, and Happy New Year Love. At Equity Library Theatre, he has appeared in Mary Surratt and Weary Blues. He trained with the American Academy, Ezra Stone, Arthur Storch, and Lloyd Richards. | |
| Directed by | Peter Gill | PETER GILL, who makes his American directing debut at ASFT, won all of the awards that counted in Britain last season, where he was named by both the London Critics' Poll in Variety and Plays and Players as Best Director of the Year, and also was given a special award in the presentation of the 1968 George Devine Award. Mr. Gill began his career in theatre as an actor with English Repertory Companies, The English Stage Company, and the Royal Shakespeare Company, and also appeared in the films HMS Defiant and Zulu. He then turned to directing at London's famed Royal Court Theatre where he progressed from Assistant Director in 1965 to director of the main bill productions The Soldier's Fortune, by Thomas Otway; The Daughter-in-Law, by D. H. Lawrence — which toured Bucharest, Milan, and won First Prize at the Belgrade International Theatre Festival in 1968 — Crimes of Passion, by Joe Orton, and a tremendously successful season of Lawrence plays presented in repertory which included A Collier's Friday Night, The Daughter-in-Law, and The Widowing of Mrs. Holroyd. This season, he directed Life Price by Seabrook and O'Neill. He also directed June Evening by Bill Naughton, Shaw's O'Flaherty V.C. at London's Mermaid Theatre, a production repeated at the Vancouver Festival in Canada; The Local Stigmatic by Heathcote Williams; Pinter's The Dwarfs at the Traverse Theatre in Edinburgh; and a Frank Gilroy play at the Kamertoneel Theatre in Antwerp. Mr. Gill also authored The Sleepers' Den, A Provincial Life, and Over Gardens Out, slated for the new Theatre Upstairs at the Royal Court this summer. | |
| Scenery by | Ed Wittstein | ED WITTSTEIN, who has designed scenery and costumes for the Festival for the past three seasons, celebrates an anniversary of sorts this year. Just twenty years ago an Off-Broadway curtain rose for the first time on one of his settings: Gertrude Stein's Yes is for a Very Young Man with Kim Stanley and Anthony Franciosa. Since then his designs for the Off-Broadway stage have included The Ginger Man and Trumpets of the Lord-and, more recently, The Fantasticks, which recently celebrated its tenth year; The Knack; The Room and A Slight Ache; Tea Party and The Basement; and Jules Feiffer's Little Murders. His first Broadway set design was Kean in 1962, followed by Enter Laughing; The Yearling; the Broadway, National Company and London productions of You Know I Can't Hear You When the Water's Running; Robert Shaw's The Man in the Glass Booth and the musical Celebration. He has directed and designed in Europe and lists among his many television credits productions of Cosi fan Tutti, La Boheme, and Boris Godunov for NBC Opera. | |
| Costumes by | Jane Greenwood | JANE GREENWOOD has designed various productions for the American Shakespeare Festival over the last four years, including last season's controversial Love's Labour's Lost. Among her long list of Broadway credits are The Ballad of the Sad Cafe, Richard Burton's Hamlet, The Prime of Miss Jean Brodie, More Stately Mansions and Tennessee Williams' The Seven Descents of Myrtle. Miss Greenwood has also designed for the National Repertory Theatre, the Tyrone Guthrie Theatre, the National Company of the Metropolitan Opera, and for Lincoln Center, where she received one of her two Tony Award nominations for Tartuffe. This production also earned her the first Maharam Award for distinguished costume design. English by birth, Miss Greenwood in private life is the wife of designer Ben Edwards, and has two children. | |
| Lighting by | Thomas Skelton | THOMAS SKELTON's most recent lighting designs seen in New York have included Jimmy Shine, Come Summer, Does a Tiger Wear a Necktie?, Your Own Thing, Big Time Buck White, the City Center Joffrey Ballet, and Ballet Folklorico. He has also turned his talents to set designs for Turn of the Screw (which he also directed), for the San Francisco Opera Company, and the kinetic setting for Robert Jeffrey's multimedia Astarte. As an international designer and director, he has productions currently playing in Brussels, Mexico City, Formosa, Paris, Amsterdam, Santiago de Chile, Rio de Janeiro, and London. | |
| Music and Songs by | Al Carmines | AL CARMINES has been associate minister and director of the widely-acclaimed arts program at Judson Memorial Church in Greenwich Village since 1961. The Judson Poet's Theatre has received twelve Obie Awards and is recognized as one of the most important centers for avantgarde theatre in the country. The Reverend Carmines won the Obie for best music in an Off-Broadway theatre in 1964; his third Off-Broadway play, In Circles (with text by Gertrude Stein) ran for over 200 performances last year and earned him the Vernon Rice Award. Two recordings of his music-In Circles and an opera called Pomegranata-have been released. His most recent project is Peace, an opera based on a play by Aristophanes and produced at the Astor Place Theatre; a musical called Promenade will open in May. | |
| Music Director and Conductor | Conrad Susa | CONRAD SUSA, the new Music Director and Conductor, has composed more than a dozen scores for the Festival since 1962. For the past ten years he has been resident composer for the San Diego Shakespeare Festival and has also composed music for ACT, the Mark Taper Forum, the Seattle Repertory Company, and the Tyrone Guthrie Theatre. This summer his scores for Volpone and The Good Woman of Setzuan are being heard at Cincinnati's Playhouse in the Park. For the APA-Phoenix, he has supplied music for Exit the King and The Misanthrope. He has written a large body of non-theatrical works, and this Fall E. C. Schirmer will release his "Three Mystical Carols." An alumnus of Carnegie Tech and the Juilliard School, he has held many prizes and awards including two Ford Foundation grants. He has also been actively involved with the Lincoln Center Student Program in the New York schools and as a reviewer for High Fidelity. | |
| Choreography by | William Burdick | WILLIAM BURDICK studied with La Viva del Cure while serving in the U.S. Navy, and continued his studies in New York with Martha Graham, Margaret Craske, Antony Tudor, Merce Cunningham, and Jose Limon, with whose companies he has since danced professionally. A specialist in historical research and theatre, he has studied with Britain's historical dance specialist Melusine Wood and has taught at the Metropolitan Opera Studio and School of Ballet, Harkness House for Ballet Arts, the Juilliard School, and at universities across the U.S. Mr. Burdick has served as choreographer, coach, and style consultant to the Metropolitan Opera, the Institute for Advanced Studies in Theatre Arts, New York Pro Musica Antigua, as well as ASFT. Dance credits include Kiss Me Kate on Broadway, the Metropolitan and New York City Operas, and the American Ballet Theatre. | |