Young Gay Brits
Spectator review
Telegraph review
Loading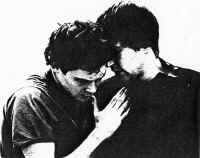 Certain Young Men
by Peter Gill
The Almeida Theatre Company
Almeida Theatre, 3 February 1999
And there followed him a certain young man, having a linen cloth cast about his naked body; and the young men laid hold of him; And he left the linen cloth and fled from them naked. St Mark. 14.51/52

What are two grown men doing living together, faking all the stupidities of a fake straight relationship?

A sharp and poignant comedy of contemporary manners, Certain Young Men explores the lives and loves of Stewart and Michael, David and Christopher, Andrew and Tony, and Robert and Terry.
The performance runs for approximately 2 hours and 15 minutes including one 15 minute interval.
Click here to jump to an essay about Peter Gill's plays by John Burgess from the programme.
Reviews
Credits
Credits
Steward
Alec Newman
Theatre: The Glass Menagerie, Translations (Royal Lyceum Theatre, Edinburgh) Danny and the Deep Blue Sea (Macowen Theatre) The Revengers's Tradgedy (Orange Tree Theatre), Othello (National Youth Theatre).

Television: The Blonde Bombshell, Dangerfield, Heartbeat, Peak Practice, Silent Witness, The Rag Nymph, The Cold Season, Taggert: Apocalypse.

Film: Greenwich Meantime.

Michael
John Light
Theatre: The Tower (Almeida Theatre), My Boy Jack (Hampstead Theatre), In the Company of Men, A Patriot for Me (Royal Shakespeare Company), Clocks and Whistles (Bush Theatre), Macbeth (National Youth Theatre).

Opera: The Cenci (Almeida Theatre).

Television: Aristocrats, The Rather English Marriage, Holding On, Cider with Rosie, The Unknown Soldier, The Jump, The Bill, Cold Lazarus, Touch of Frost, Soldier Soldier.

Film: Mrs Pollifax, Wavelengths.

Radio: Les Parent Terribles, Man and Boy, Minuet.

David
Jeremy Northam
Theatre: Work for the Royal National Theatre includes: The Shaughraun, Hamlet, Voysey Inheritance, School for Scandal. Work for the Royal Shakespeare Company includes. The Country Wife (Swan Theatre/Pit), Love's Labour's Lost, (Stratford/Barbican), The Gift of the Gorgon (Pit/Wyndhams). Three Sisters (Queen's Theatre), La Bete and The Way of the World (Lyric Hammersmith) Repertory in Nottingham, Salisbury, Bromley.

Television: Journeys End, Fatal Inversion, Poirot, Piece of Cake, Wish Me Luck, A Village Affair, The Tribe

Film: Emma, The Winslow Boy, The Net, An Ideal Husband, Gloria, Mimic, Happy Texas, Voices from a Locked Room, Amistad, Carrington, The Misadventures of Margaret, Wuthering Heights.

Christopher
Andrew Woodall
Theatre: Work for the Royal National Theatre. Abingdon Square, The Shape of the Table, Racing Demon, Murmuring Judges. Weldon Rising, Search and Destroy. Disappeared (Royal Court Theatre), Butterfly Kiss (Almeida Theatre), Vieux Carre (Nottingham Playhouse), Don Carlos (Citizens' Theatre, Glasgow, Edinburgh Festival). Work for the Old Vic Theatre: Waste, Cloud Nine, The Provok'd Wife, King Lear. A Letter of Resignation (Savoy Theatre), The Art of Success (Paines Plough).

Television: Wish Me Luck, Underbelly, Prime Suspect Ill, Seaforth, Degrees of Error, Sharman, Kavanagh QC.

Film: Watch That Man, Regeneration.

Andrew
Andrew Lancel
Theatre: Equus, Much Ado About Nothing (Southport), The Grapes of Wrath (Phoenix Production), Antony and Cleopatra (national tour), Conduct Unbecoming (Yvonne Arnaud Theatre, national tour). Andrew Lancel co-founded The Message Theatre Company.

Television: Queer as Folk, Casualty, Heartbeat, Peak Practice, Soldier Soldier, Dangerfield, The Grand, The Bill, The Detectives, Hillsborough, Go Back Out, Liverpool One, Cardiac Arrest, City Central.

Film: Playground Rules, Case, Some Small Cycle, Wideeyed and Legless (The Wedding Gift in U.S.A.)

Tony
Peter Sullivan
Theatre: Work for the Royal National Theatre: Richard III, King Lear, Napoli Milonaria, The Bacchae (Opera Factory), Crimes of Pashion (Nottingham Playhouse). Work for the Royal National Theatre Studio: Lovers' Melancholy, The Runners, Musicians, Alien Activity, Barbarians (Man in the Moon), Offshore Island (Old Red Lion), Balm in Gilead (Edinburgh Festival), Revelations (Gateway Theatre, Chester), Our Town, Action Replay, Measure for Measure (Contact Theatre, Manchester), The Way of the World (Lyric Theatre, Hammersmith). Peter Smigh has toured internationally with the Spanish Theatre Company. La Fura Dels Baus.

Television: The Bill, Taking Liberties, Over the Rainbow, Date Rape, Devil's Advocate, Chandler and Co., Backup, Sometimes Never, Lord of Misrule, Peak Practice, Heat of the Sun.

Film: Expresso Splasho, Duplicity, The Waiter, Underground Signs, The Butterfly Effect, Young Indiana, The Day of the Jackal.

Robert
Sean Chapman
Theatre: Work for the Royal National Theatre: Fair Ladies at a Game of Poem Cards, The Prince's Play, Rutherford and Son, Angels in America, Single Spies (also Queen's Theatre). Hamlet (Royal Exchange Theatre), Me and Mamie O'Rourke (Strand Theatre), The Comedy of Errors (Theatre Royal, York), Wolf at the Door (Stephen Joseph Theatre), The Clandestine Marriage (Bristol Old Vic Theatre).

Television: Kavana QC, French and Saunders, Absolutely Fabulous, A Woman at War, The Nightwatch, Keeping Tom Nice, Master of the Marionettes, No Further Cause for Blue Lamp, Contact, Made in

Terry
Danny Dyer
Theatre: Not Gods But Giants (Traverse Theatre)

Television: Soldire Soldier, Bramwell, A'int Misbehaving, Thieftakers, Loving, Loved Up, Prime Suspect III, The Ward, The Bill, The Throwaways, Ruth Rendell Mysteries, Heart Stones, Touch of Frost.

Film: Human Traffic, Somme.

Direction
Peter Gill
Design
Nathalie Gibbs
Theatre: Anna Karenina (Theatre Royal, Plymouth), Terms of Abuse (Hampstead Theatre), Dumped (National Youth Theatre), Yard (The Bush). Nathalie Gibbs was resident Design Assistant at the Young Vic. Work as Design Assistant: Cleansed (Royal Court Theatre), The Country Wife (Theatre Royal, Plymouth), HRH (Birmingham Repertory Theatre), Women Laughing (Palace Theatre, Watford), The Mark Baldwin Dance Company (Edinburgh tour, The Place, Royal Festival Hall).

Opera: Mask of Orpheus (Royal Festival Theatre), II Turco in Italia (Christchurch, Broomhill), Misper (Glyndebourne Opera House).

Film: Daylight Robbery.

Costume Design: Mark Baldwin, Clod Ensemble.

Lighting
Hartley T A Kemp
Theatre: Work for the Almeida Theatre: Tongue of a Bird, The Doctor's Dilemma (also national tour) Twelfth Night (Sheffield Crucible), Dealer's Choice (West Yorkshire Playhouse), Faith (Royal Court Upstairs), The Golem (Bridewell Theatre), Rosmersholm (London Stage Company). Work for the Southwark Playhouse. Thieves Like Us, In the Jungle of Cities, Seascape with Sharks and Dancer. A Week with Tony (Finborough Theatre). Work for Battersea Arts Centre. When Did You Last See My Mother?, Baby Jean, In High Germany.

Opera: Carmen (Castleward and Belfast), Iris (Opera Holland Park), Die Fledermaus (Chichester Festival Theatre and national tour), The Promise (Queen Elizabeth Hall and Staines), The Marriage of Figaro (Queen Elizabeth Hall, national tour)

Musicals: Dorian (Arts Theatre), Jesus Christ Superstar (Theatre Royal, Hanley), Assasins, Sweet Lorraine (Old Fire Station, Oxford), The Happy Prince (national tour).

Associate lighting designer credits include: The Herbal Bed (Royal Shakespeare Company, Duchess Theatre and national tour).

Hartley is also artistic director of C venues at the Edinburgh Festival.

Casting
Toby Whale
Costume Supervisor
Charlotte Stuart
Production Photographer
Ivan Kyncl
Production Manager
Paul Clay
Company Stage Manager
Rupert Carlile
Stage Manager
Lisa Buckley
Kathy Anders
Deputy Stage Manager
Debbie Green
Assistant Stage Manager
Sarah Grimshaw
Production Carpenter
Frank Crossley
Chief Technician
Jason Wescombe
Technician
Helen Holbrook
Paul Skelton
Production Wardrobe
Debbie Mitchner
Set built by
Scott Fleary Schofield
Set Painted by
Lisa Robinson