Noble turns up the RSC heat
Adrian Noble's new staging of The Seagull in Stratford overcame added first-night drama to enthral Benedict Nightingale, The Times, 3 February 2000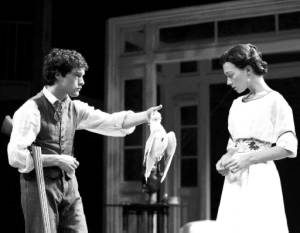 John Light (Konstantin) and Justine Waddell (Nina) get the bird in Adrian Noble's Seagull, whose strong cast also includes Penelope Wilton, Richard Johnson and Nigel Terry
Photograph: DONALD COOPER
I could count on maybe 200 hands the times I have longed to jump onstage and apply matches or even blazing faggots to the bottoms of performers who were idling through their roles. How ironic, then, that the one occasion I have seen a set catch fire was when, so far from needing the extra heat, the cast could have done with cold compresses to temper the fever already in the air.
The first act of the opening night of Adrian Noble's fine revival of Chekhov's The Seagull was near its end when it happened. Candles on the garden stage where the aspiring writer Konstantin presents his little play set alight the makeshift curtains, bringing RSC staff on to the Swan stage with extinguishers and sending the actors to their dressing rooms.
Smoke could still be smelt when, five minutes later, the production resumed with the line, wryly uttered by Richard Pasco's ageing landowner: "Let us go in, ladies and gentlemen, it's getting cold." But the real point was that within moments that superb veteran, Richard Johnson, and a talented young actor, John Light, transformed a giggly audience into one that remained utterly rapt for the next two-odd hours.
British directors long ago stopped thinking that Chekhov's plays need dreamy, ultra-atmospheric productions. Indeed, one of the ways Noble shows his confidence is by emphatically reintroducing the scene-setting sounds — offstage song, birds, high wind — his colleagues would have rejected as old-fashioned. And he can afford to do so, because his actors display a most un-British volatility of feeling. Again and again tempers flare or threaten to do so. Again and again you sense that everyone onstage is desperately in love with someone who doesn't love him or her.
Penelope Wilton is particularly strong as the actress Arkadina, Konstantin's neglectful mother and the mistress of his rival in love, Trigorin. It is usual to bring out the character's insecurity and terror of ageing. But Wilton does so by inference, showing us a woman who has clearly battled up the theatrical ladder, acquiring in the process a frightening force of personality as well as her notorious meanness with money. She is blunt, tough enough to slap her son while raging at him as a "nothing", and wholly in command of Nigel Terry's Trigorin. The audience usually laughs when Arkadina lards her errant lover with exorbitant praise, then says she isn't a flatterer; but not this time. Wilton is too effective, too formidable.
That is an impressive feat, because Terry, though a bit old for the role, is neither spineless nor especially vulnerable nor a nonchalant roué, but energetic, restless and totally credible when he talks of his obsession with writing. Here, everywhere, one is unusually aware of the characters' intensity. Pasco's Sorin intensely regrets his disappointing life. Light's rumpled, edgy Konstantin loves intensely, as do Justine Waddell's pale, anxious Nina, and (a most interesting performance) Niamh Linehan's scattily exhibitionist, brutally frustrated Masha.
If Waddell had given us less earnestly anguished ambition, and more of Nina's freshness and sweetness, the dénouement with Konstantin might be more moving. But never mind. Noble is able to fill any silences in Peter Gill's brisk new translation with emotional eloquence, and his cast are generous with telling detail. For instance, did it occur to you that when Arkadina tells Trigorin his books are kept "in the study — in a cupboard in the corner", she is expressing her anger at him by putting him down? It is a sign of the evening's distinction that Wilton's tiny pause suggests just that.