Loading
A Month in the Country
Translated by Isaiah Berlin
National Theatre
Olivier Theatre, 19 February 1981
A Month in the Country was written in Paris between 1848 and 1850. The play was originally to have been called The Student but this had connotations that were too openly revolutionary. Turgenev then changed the title to Two Women before finally settling on the present version.
The play was thought to be an attack on marriage and immediately ran into problems with the Russian censor. It was not allowed to be printed until 1855 and only then in a mutilated version which made Natalya Petrovna a widow. The original text was not published until 1869 and the play had to wait until 1872 for its first performance.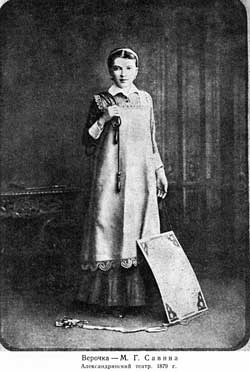 It is possible that had it not been for the strict theatrical censorship Turgenev's career might have taken an entirely different course and he would have come down to posterity as a playwright rather than as a novelist.
The first successful production of A Month in the Country took place at the Alexandrinsky Theatre in 1879, when Mariya Savina took the part of Vera for her benefit performance. The play was revived several times in Turgenev's lifetime and was playing in Petersburg on the day of his funeral. Stanislavsky directed it for the Moscow Art Theatre in 1909 with Chekhov's widow Olga Knipper as Natalya Petrovna, and since then it has taken its place as part of the international repertoire. The role of Natalya Petrovna has been played by actresses as diverse as Ludmilla Pitoeff, Peggy Ashcroft, Uta Hagen, Delphine Seyrig, and Margaret Leighton.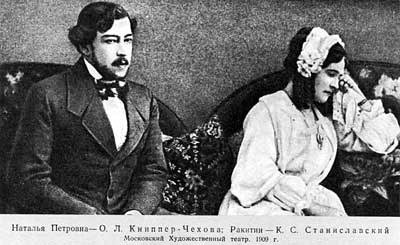 The first performance in England was given by the Stage Society on 5 July 1926 at the Royalty Theatre, Dean Street, Soho. The same production, which had Gillian Scaife as Natalya Petrovna, was revived later in the same year at the Fortune Theatre. The play was next seen in London in 1936, again with Gillian Scaife, but the production which was to make its reputation here was in 1943 with Valerie Taylor and Michael Redgrave in an adaptation by Emlyn Williams which had a successful run at the St James's Theatre.
A Month in the Country has been seen in London three times since the war — at the New Theatre with Angela Baddeley in 1949, at the Cambridge Theatre with Ingrid Bergman in 1965, and at the New Theatre (renamed the Albery) with Dorothy Tutin in 1974. The play has also been broadcast several times — on the radio with Peggy Ashcroft, and on television with Margaret Leighton and Michael Gough in 1955 (Rediffusion), and with Vivien Merchant and Derek Godfrey in 1966 (BBC).
The action takes place on Islayev's estate in the country

Length: about 3 hours 20 minutes including one 15 minute interval
Credits
Adam Ivanovich Schaaf
Leonard Fenton

Theatre includes repertory at Traverse Edinburgh, Liverpool, Manchester, Dublin, and tour of Asia with Bristol Old Vic. In London: Wakefield Mystery Plays, The Possessed (Mermaid), The Seagull, The Bed Before Yesterday (Lyric), Maggie (Shaftesbury), The Square (New End), Why Bournemouth (King's Head), The Irish Hebrew Lesson (Almost Free). At the Royal Court: Anarchists, Uve Like Pigs, Skyvers, Crete and Sergeant Pepper, The Old Ones, Magnificence. Eclipse, Happy Days. RSC: London Assurance, Major Barbara, Twelfth Night. TV includes: plays by C P Taylor, Philip Purser, Don Haworth, Z Cars, A Legacy, A Hole in Babylon, Maria Marten. Films: Brown Ale with Gertie, Happy Days. Frequent radio work including membership of the Radio Drama Company.

Anna Semyonovna Islayeva
Betty Hardy

Theatre: The Anatomist (Westminster Theatre), Ibsen Season (Criterion), season at Stratford-uponAvon, Watch on the Rhine (Aldwych), work with the Old Vic Theatre Company at the New, Valmouth (Lyric Hammersmith), Tartuffe (Greenwich), Winter Dancers (Royal Court), Vieux Carre (Piccadilly), Autumn Garden (Watford Palace), Television: Coronation Street, Crown Court, The History of Mr Polly, Last of the Summer Wine, House of Bernarda Alba, Jackanory, Tinker Tailor Soldier Spy, Fair Stood the Wind for France, We The Accused, Radio: frequent broadcasts of drama and talks for many years,

Natalya Petrovna
Francesca Annis

Theatre includes: Passion Flower Hotel in the West End; Hamlet with Nicol Williamson in New York (New York Critics' Award for Most Promising Actress). For the RSC: Measure for Measure, Troilus and Cressida, The Comedy of Errors, Romeo and Juliet. TV includes: Girls in Uniform, The Wood Demon, The Couch, The Way of the World, Edward VII, A Pin to See the Peepshow, Madame Bovary, Lillie, Why Didn't They Ask Evans. Films include Hamlet, Polanski's Macbeth, Big Mack and Poor Clare, Penny Gold,

Mikhailo Alexandrovich Rakitin
Nigel Terry

Nigel Terry (Mikhailo Alexandrovich Rakitin) Theatre includes repertory at Oxford Meadow Players, Bristol Old Vic, Theatre 69 Manchester, Crucible Sheffield, Welsh Drama Company. London: The Long and the Short and the Tall, Romeo and Juliet (Shaw Theatre), Big Wolf, The Fool (Royal Court), Kingdom Coming (Roundhouse), Rooted (Hampstead), Rashomon (Stratford East), A Light Shining in Buckinghamshire, Traps (Joint Stock at Royal Court). RSC: 'Tis Pity She's a Whore, Henry VI Part 3, Queen Christina, Sons of Light, The Women Pirates, Shout Across the River, Look Out … Here Comes Trouble, The Hang of the Gaol, Pericles, The Suicide, Julius Caesar, Baal. TV includes: Kenilworth, The Man Who Understood Women, Remote Control, Boy Meets Girl, Sherlock Holmes, The Marquise, South Bank Show on Edward Bond. Films: The Lion in Winter, Transfusion, A Cast of Ravens, Excalibur.

Lizaveta Bogdanovna
Mary Macleod

Theatre includes; repertory at Birmingham. At the Royal Court: Miniatures, Three Men For Colverton, Macbeth, Life Price, One at Night, The Farm. Riverside Studios: Scrape Off The Black, Black Man's Burden. NT; Equus. TV includes: The Witches of Pendle, Headmaster, People Uke Us, Thomas and Sarah, Three Days in Sczecyn, Three Men in a Boat, The Duchess of Duke Street, Crown Court, Coronation Street, Brideshead Revisited, The Best of British (on Peter Gill). Films: If, The Final Programme, Morgan A Suitable Case for Treatment, The French Lieutenant's Woman, O Lucky Man.

Kolya
Alex Paterson

Has appeared in various commercials. and as Peter Pan in The Man Who Didn't Like Children (Thames TV)

Jake Rea

Is making his first professional appearance.

Matvei Yegorovich
Ron Pember

Theatre: work in London includes appearing in thirty plays at the Mermaid, and directing eighteen others. For the NT work includes: Othello, Much Ado About Nothing, Royal Hunt of the Sun, Uncle Vanya. At the RSC: Twelfth Night. Work in the West End includes: Lock Up Your Daughters, Blitz. TV includes: Secret Army, The Dick Emery Show, Sweeney, Backs to the Land, The Fall and Rise of Reginald Perrin, Secret Army. Films include: Young Winston, Land That Time Forgot, Oh What A Lovely War, Julius Caesar, Poor Cow, Aces High.

Ignaty Ilyich Shpigelsky
Michael Gough

Theatre includes: Crime Passionel, September Tide, Colombe, The Wild Duck, The Creditors, Fanny, Ghosts, Events in a Room Upstairs, and most recently, Before the Party. NT: Phaedra Britannica, Watch It Come Down, Tamburlaine The Great, Il Campiello, Counting the Ways, The Passion, Bedroom Farce (also in New York), Love Letters on Blue Paper. TV includes: In Search of the Nile, The Rivals of Sherlock Holmes, Stalin, Shoulder to Shoulder, Vincent the Dutchman, The Microbe Hunters, Fall of Eagles, Georges Sand, Shades of Greene, Suez, Brideshead Revisited. Films include: Anna Karenina, The Man in the White Suit, The Sword and the Rose, The Horse's Mouth, Mr Topaze, Henry VIII, The Go-Between, The Boys from Brazil, Justices, Venom.

Vera Alexandrovna
Caroline Langrishe

Theatre includes: repertory at Bristol Old Vic, Churchill Theatre Bromley, Nottingham Playhouse, In London: The Cherry Orchard (Riverside Studios), A Portrait of Dora (Theatre at New End), Television: Anna Karenina, Just William, Emily, Queen Victoria's Scandals, Invitations, Wuthering Heights, Seconds Out, Tales of the Unexpected, The Flipside of Dominick Hyde, Films: Holocaust 2000, Someone is Killing the Great Chefs of Europe, Eagle's Wing, Les Miserables. Death Watch, Possessions, Hammer House of Horror,

Arkadi Sergeyevich Islayev
Robert Swann

Theatre includes repertory at Ipswich, Canterbury, Liverpool, Windsor. Leatherhead, Royal Exchange Manchester. London: Rafferty's Chant (Mermaid), Forty Years On (Apollo). My Little Boy, My Big Girl (Fortune), Gone With the Wind (Drury Lane), Very Good Eddie (Piccadilly), His Monkey Wife (Hampstead), An Ideal Husband (Greenwich). Film: If. TV includes: Upstairs Downstairs, The Sweeney, Minder. The Professionals, Fallen Hero. Anna Karenina, Hamlet, Sense and Sensibility.

Aleksei Nikolayevich Belyaev
Ewan Stewart

Theatre includes: repertory at Durham, Flying Blind (Royal Court), Midsummer Night's Dream (Scottish Opera). TV includes; Soldiers Talking Cleanly, The Camerons, Shadows on Our Skin, Rain on the Roof, Barriers, Mackenzie, The Professionals, The Quiet Days of Mrs Stafford, Films; Torquay Summer, All Quiet on the Western Front.

Katerina Vassilyevna
Holly de Jong

Theatre: includes repertory at Newcastle, Lincoln, Leatherhead, In London: Godspell (Wyndhams); work with fringe groups: Low Moan Spectacular, Pirate Jenny, Albany Empire, Mayday. TV: The Duchess of Duke Street, Love for Lydia, Send in the Girls, Matilda's England, The Racing Came, Penmarric, The Assassination Run, Barriers.

Afanasi Ivanovich Bolshintsov
David Ryall

Theatre includes repertory at Leicester, Salisbury, Bristol, and Birmingham, where he played King Lear and The Master Builder. London: Mother's Day (Royal Court), The Changeling (Riverside). With the NT from 1965 to 1973, including; The Royal Hunt of the Sun, Trelawney of the Wells, Much Ado About Nothing, A Flea in Her Ear, Volpone, The Way of the World, As You Like It, The Beaux' Stratagem, The National Health, The Idiot, Jumpers, Richard II, The School for Scandal, The Front Page, Macbeth, Twelfth Night. TV includes The Knowledge, 'Tis Pity She's a Whore, Love for Lydia, Enemy at the Door, Bless Me Father, Dreams of Leaving. Film: The Elephant Man.

With
Paul Bentall

Theatre includes repertory at Lincoln Theatre Royal, Citizens Theatre Glasgow. London: Laughter, The Bukharin Play (Royal Court), Julius Caesar (Riverside). TV: As You Like It, The Borgias. Film: Flash Gordon.

Paul Bradley

Theatre includes repertory at Royal Exchange Manchester, Contact Theatre, Molecule Club tour. In London: The Middleman, and Dirty Work at the Crossroads (Orange Tree, Richmond).

Clare Byam Shaw

Theatre: Trained at LAMDA. Repertory at Exeter, Worcester, Canterbury, Watford. TV: Unity, The Wilderness Years.

Susan Porrett

Theatre includes repertory at Watermill Theatre, Newbury, Chesterfield Civic, Nottingham Playhouse. In London: Mother's Day, Skoolplay, The London Cuckolds (Royal Court); An Ideal Husband, Don Juan (Greenwich); As You Like It, Plays Umbrella: Scrape Off The Black, Black Man's Burden (Riverside). TV: Upstairs Downstairs, The Duchess of Duke Street, Malice Aforethought, Grange Hill, The Best of British: Peter Gill, Omnibus on Landseer. Films: One of Our Dinosaurs is Missing, Full Circle, Sir Henry at Rawlinson End.

John Rees

Theatre includes seasons at Bristol Old Vic, Nottingham, Oxford, Theatre Workshop Stratford East. The Lion in Love, Sleepers' Den (Royal Court); One is One (Riverside). NT: Strife. TV includes: The Caretaker, Holocaust, Tales of the Unexpected, The Ragged Trousered Philanthropists. Films: Hanover Street, The Awakening, Eye of the Needle, Superman, The Shout, Der Schwur des Soldaten Pooley.

Kate Saunders

Theatre: tours of The Beggar's Opera (Bubble Theatre), Jubilee Thro (Paine's Plough). London: Seven Girls (Open Space), Walking, Carnival War A Go Hot (Royal Court), Traitors (Hampstead). TV: Angels, Family Affair, Daughters of Albion. Film: Birth of the Beatles.

Peter Sproule

Theatre includes: repertory at Bristol Old Vic, Nottingham Playhouse; toured with 7:84 Company in Occupations and Apricots, In London: long association with the Royal Court, including Edward Bond season, At the May Fair Theatre: Flashpoint, Riverside: Julius Caesar, Mother Country, NT: The Romans in Britain, TV includes: Blue Skies from Now On, The Naked Civil Servant, Billy. Films: The Land that Time Forgot, The Mouse and the Woman.

Di Trevis

Theatre includes repertory at Citizens Theatre Glasgow, Crucible Sheffield, Nottingham Playhouse. In London: One is One (Riverside), Forget Me Not (Greenwich), Vieux Carre (Piccadilly), Amabel (Bush), pon Juan (Roundhouse). TV: Able's Will, Moss, Where the Heart Is, The Sweeney, The Professionals. Films: Le Lieutenant Karl, Hanover Street, The Wall. Recently directed Desperado Corner for Glasgow Citizens.

David Troughton

Theatre includes repertory at Windsor, Leeds Playhouse (Wedding Feast), Churchill Theatre Bromley (The Case of the Frightened Lady). In London: Parents Day (Globe), Loot, The Fool (Royal Court), The Changeling (Riverside). TV includes: David Copperfield, Chips With Everything, The Norman Conquests, Our Mutual Friend, Wings, Crime and Punishment, Frank Muir on Children, Man of Destiny.

Director
Peter Gill

Work at the Royal Court, where he was Associate Director from 1970 to 72, includes A Collier's Friday Night, The Local Stigmatic, The Ruffian on the Stair, A Provincial Life (which he also adapted), A Soldier's Fqrtune, The Daughter-in-Law,The Widowing of Mrs Holroyd,Life Price, The Duchess of Malfi, Crete and Sergeant Pepper, The Merry-Go-Round (which he also adapted), and his own plays Over Gardens Out, The Sleepers' Den, and Small Change, For the RSC: Twelfth Night. At Riverside Studios, where he was director from 1976 to 1980, directed As You Like It, Small Change, The Cherry Orchard, The Changeling, Measure for Measure, Julius Caesar, Scrape Off The Black. Work abroad includes: Much Ado About Nothing, Hedda Gablet,and Macbeth at Stratford Ontario, Landscape and Silence at Lincoln Centre, New York.

Designer
Alison Chitty

Trained at St Martin's School of Art, Central School of Art, Work includes: designing over 40 plays at Victoria Theatre Stoke on Trent. In London: Ken Campbell's Old King Cole (Stratford East), Mike Leigh's Ecstasy, and Uncle Vanya (Hampstead), Measure for Measure. Julius Caesar, and the Plays Umbrella Season for Peter Gill at the Riverside Studios. Member of the British theatre designers who won 1st prize at the 1979 Prague Quadriennale Exhibition.

Lighting
Rory Dempster

Work at Nottingham Playhouse, for Joint Stock, and at the Edinburgh Festival, In London: Krapp's Last Tape, Not I, The Merry-Go-Round, Sense of Detachment (Royal Court); in the West End: Sizwe Bansi is Dead, The Island, Entertaining Mr Sloane, Lenny, City Sugar, Comedians, Teeth 'n' Smiles, The Rocky Horror Show, For the RSC: Twelfth Night, Cousin Vladimir, At the Riverside: The Cherry Orchard, The Changeling, Measure for Measure, NT: Weapons of Happiness, The Madras House, Plenty, The Crucible, Has worked also in Norway, Japan, Germany, Yugoslavia, Denmark, and Australia; as well as for the Welsh National Opera and English National Opera.

Peter Radmore
Music by
George Fenton

Theatre music includes Twelfth Night (RSC), As You Like It, The Cherry Orchard, The Changeling, Measure for Measure, Julius Caesar (all for Peter Gill at the Riverside), A Fair Quarrel (NT), Duchess of Malfi (Royal Exchange Manchester). TV includes: Hitting Town. Last Summer, Out. Six Plays by Alan Bennett. Fox, Shoestring, The History Man, Rain on the Roof, Bloody Kids; Going Gently, Camero. Films include: Private Road, Waterloo Bridge Handicap, Hussy. Dead End; Currently working on Parole.

Music Director
John Leach
Staff Director
John Burgess
Assistant to the Director
Di Trevis
Production Manager
Michael Cass Jones
Stage Manager
Rosemary Beattie
Deputy Stage Manager
Courtney Bryant
Assistant Stage Managers
Jill Macfarlane
Timothy Speechley
Lesley Walmsley
Sound
Gabby Haynes
Assistant to the Lighting Designer
Graham Hampson
Assistant Production Manager
Mark Taylor
Prodution photographed by
John Haynes
Translator
Isaiah Berlin

Born 1909 in Riga. USSR. First President of Wolfson College, Oxford, 1966 to 1975; Fellow of All Souls; Fellow of New College from 1938 to 1950; Professor of Social and Political Theory at Oxford from 1957 to 1967. Served as President of the British Academy from1974 to 1978. Honorary Fellow of American Academy of Arts and Letters. Holds honorary degrees from Universities of Brandeis, Cambridge, Columbia, East Anglia, Glasgow, Hull, Liverpool, London, Jerusalem, Tel Aviv. Publications include: Karl Marx. translation of First Love by Turgenev. The Age of Enlightenment. Four Essays of Liberty. Vico and Herder. Concepts and Categories, Against the Current, Russian Thinkers. Personal Impressions.

Programme acknowledgements
Books quoted and consulted: The Gentle Barbarian by V S Pritchett (Chatto & Windus, 1977); The Turgenev Family by Mme V Zhitova. trans A S Mills (Harvill, 1948); Turgenev and England by Patrick Waddington (Macmillan, 1980).

Grateful thanks to John Burgess for writing and research.

Production credits:

Scenery and props constructed in NT workshops Louvred ceiling by P E Kemp Engineers Ltd Costumes and wigs by NT workshops Hats by Sally Long Shoes by Anello & Davide, and Gamba Miss Annis' shoes by T Savva Props and wardrobe care by Lever Brothers.

Opening night fireworks donated by Festival Fireworks of London. Cigarettes used in prodution suppiled by Gallahers.

Programme designed by

Richard Bird and Michael Mayhew.

Programme printed by

Battley Brothers Printers, Clapham, London SW4 0JN
Home | Up | Breath of Life | The Aliens | Hens | Another Door Closed | Semper Dowland / Corridor | Small Change | Importance of Being Earnest | Gaslight | Look Back in Anger | The Voysey Inheritance | Epitaph for George Dillon | Days of Wine and Roses | Romeo and Juliet | Scenes from the Big Picture | Peter Gill Festival | York Realist | Radio plays | Luther | Speed-the-Plow | The Seagull | Friendly Fire | Certain Young Men | Mrs Klein | Tongue of a Bird | Cardiff East | A Patriot for Me | Uncle Vanya | New England | Way of the World | Juno and the Paycock | Marriage of Figaro | Harrison Birtwistle | Mean Tears | New Plays | Fool for Love, Lyric | Fool for Love | Antigone | Venice Preserv'd | Tales from Hollywood | Small Change (1983) | Kick for Touch | Major Barbara | Danton's Death | Much Ado (1981) | Don Juan | Month in Country | Scrape off the Black | Julius Caesar | Measure for Measure | Changeling | Cherry Orchard | Small Change (1976) | The Fool | As You Like It | Fishing | Twelfth Night | Merry-Go-Round | Schwieger Tochter | Crete and Sgt Pepper | Duchess of Malfi | Macbeth | Hedda Gabler | Landscape, Silence | Sleepers' Den (1969) | Over Gardens Out | Much Ado (1969) | Life Price | Daughter-in-Law tour | Lawrence season | O'Flaherty VC | Crimes of Passion | Daughter-in-Law (1967) | The Soldier's Fortune | A Provincial Life | O'Flaherty VC | Ruffian on the Stair | Local Stigmatic | Traverse | Albert Cobb | Collier's Friday Night | Sleepers' Den (1965)
Send mail to with questions or comments about this web site. Copyright © 1999-2011
Last modified: 2011-05-31