Stage blaze adds real-life drama to Noble's Chekhov
Loneliness of the long-distance ironist
The Seagull, Swan Theatre, Stratford-upon-Avon, Paul Taylor, The Independent, 2 February 1999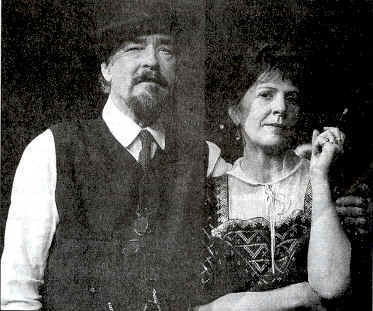 ADRIAN NOBLE'S new production of The Seagull set the stage alight in more ways than one when fire broke out in the first act as some curtains drifted into a row of candles positioned on the makeshift theatre where Konstantin's absurd play-within-the-play is performed.
Given that there is an awful lot of wood in the balconies of the Swan, the audience remained calm to a fault as stage-hands dealt with the conflagration. And when the show resumed there was a big laugh as Richard Pasco's splendid Sorin declaimed the now rather ironic line: "Let us go in, ladies and gentlemen, it's getting cold."
A further irony is that the last time Noble directed a Chekhov play in this venue — The Cherry Orchard in 1995 — the fire regulations were so stringent that the male characters were forced to brandish patently unlit. cigars.
During last night's little incident, I fell to wondering which of the actors I would be prepared to rush on stage to rescue. The ensemble work in Noble's production is very fine, but I have to say I would have made an invidious beeline for Penelope Wilton. Most actresses play Arkadina as a flouncing monster of manipulative vanity, blessed with all the soft maternal instincts of a Joan Crawford, but Wilton is fully up to the broader comic strokes.
When, in a line from Peter Gill's witty, beautifully judged translation, she tells the ardent, hopeful young Nina (Justine Waddell) "I am sure you must have talent", she makes it sound as though it would take an exceptionally patient search with a team of sniffer dogs, to locate that gift.

But Wilton's superb performance hits subtler, more ambiguous notes the competitiveness and Oedipal intensity in her relationship with Konstantin, her Hamlet manque of a son (sensitively played by a rather underpowered John Light) are economically established right at the start when she leaps on to his outdoor stage and starts exhibitionistically acting out the role of Gertrude. When he tries to trump her by using Hamlet's words to accuse her publicly of sexual transgression she bests him by planting a playfully ardent kiss on his lips.
The production is full of such telling touches. Arkadina's lover, the celebrity novelist Trigorin (Nigel Terry), prolongs a kiss of reconciliation with her, ludicrously negotiated over a dining room table, so that he can surreptitiously fish out the notebook in which he dots down ideas for his stories. And that stage picture is ironically repeated a few moments later, only this time it is Nina on the receiving end.
In this latter role, Waddell expertly highlights the comedy of this girl's humourless fan worship in the earlier part of the play and the almost trance-like willed stoicism of the broken young woman at the end.
Noble cuts to the heart of the play and finds a ubiquitous sense of personal isolation which is at once absurd and deeply painful. Yet again, one is left paying him the somewhat back-handed compliment of saying that the Royal Shakespeare Company chief is a more gifted director of Chekhov and Ibsen than of the Bard.