Loading
Production photographs
Click on a thumbnail below to see an larger (100kb) image. Use your browser's "back" button to get back to here. There are further pictures elsewhere in this site, such as on the productions pages.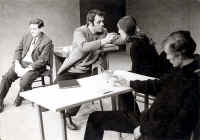 Richard Butler, Anthony Hopkins, Shivaun O'Casey, and Geoffrey Whitehead in rehearsal for A Provincial Life, a production without decor presented at the Royal Court Theatre on Sunday, 30th October 1966. A Provincial Life is a new play by Peter Gill based on the story My Life by Anton Chekhov. The production was directed by Peter Gill.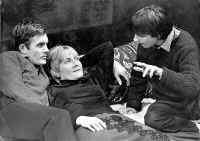 Maurice Röeves, Sheila Hancock, and Peter Gill in rehearsal for Thomas Otway's The Soldier's Fortune, January 1967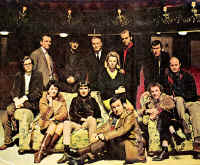 Graduates and stars of the Royal Court Theatre, 1969. Standing (left to right): David Cregan, playwright; Jack Shephard, actor; Sir Laurence Olivier; Anthony Page; John Osborne. Seated: Christopher Hampton, resident dramatist; Joan Plowright; Peter Gill, Jill Bennett, Victor Henry (Jimmy Porter in the revival of Look Back in Anger), Edward Bond. On Floor: Kenneth Haigh, the original Jimmy Porter.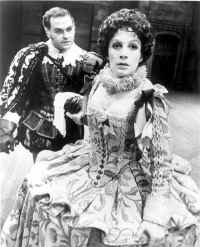 Charles Cioffi (Benedick) and Patricia Elliott (Beatrice) in Peter Gill's production of Much Ado About Nothing at the 1969 American Shakespeare Festival, Stratford, Conn.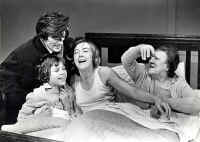 John Rees, Kimberly Isles, Eileen Atkins, and Madoline Thomas in Peter Gill's production of A Sleepers' Den, October 1969.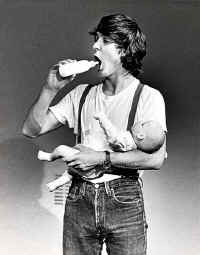 Don Hawkins in Peter Gill's, Over Gardens Out, Royal Court Theatre, 1969.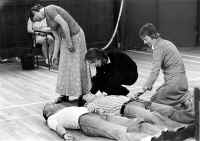 Peter Gill rehearsing his Small Change, 1976.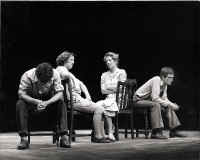 James Hazeldine (Gerard), June Watson (Mrs Harte), Marjorie Yates (Mrs Driscol) and Phillip Joseph (Vincent) in Peter Gill's production of his Small Change. Photo: Zoe Dominic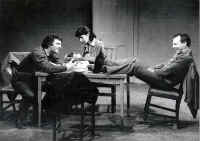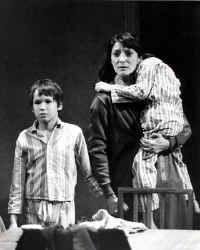 James Hazeldine (Jim), Jane Lapotaire (Eileen), and Kenneth Cranham (Joe) in Peter Gill's National Theatre, Cottesloe, production of his Kick for Touch, February 1983. Photo: John Haynes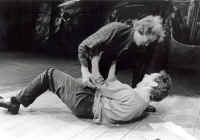 Bill Nighy (Julian) and Karl Johnson (Stephen) in Peter Gill's National Theatre, Cottesloe, premiere of his play Mean Tears, July 1987. Photo: John Haynes.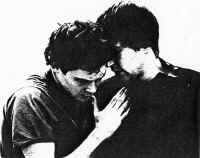 John Light and Alec Newman in Peter Gill's Certain Young Men, Almeida Theatre, 1999.