Loading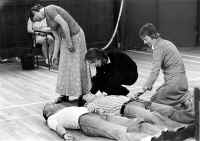 Small Change
Royal Court Theatre
Royal Court Theatre, 8 July 1976
SMALL CHANGE is Peter Gill's first play for seven years. Like many of the more interesting British talents, he started life in the theatre as an actor. His first play THE SLEEPERS' DEN was first performed at the Royal Court Theatre as a Sunday night production without decor in 1965 and was subsequently revived in a revised version with another play OVER GARDENS OUT in the Theatre Upstairs in 1969. He has also made adaptations of a Chekov story A PROVINCIAL LIFE (1966) and D.H. Lawrence's THE MERRY-GO-ROUND (1974). It was with his productions of A COLLIER'S FRIDAY NIGHT (1965 & 1968), THE DAUGHTER-IN-LAW (1967 & 1968) and THE WIDOWING OF MRS HOLROYD (1968) that he made his reputation as one of the country's leading directors and established D.H. Lawrence as a dramatist of world stature. It is perhaps his feeling for the poet at work in the theatre, together with his continuing involvement with new writers which has made his work in the classical repertoire so refreshing. His last three productions have been in England. Edward Bond's THE FOOL, Stephen Poliakoff's HITTING TOWN (for Thames Television) and AS YOU LIKE IT by William Shakespeare.

SMALL CHANGE is about two mothers and two sons: their attachments and emotional complexity: the endeavour of the two sons to make sense of their complicated inheritance and their adolescent friendship later in life.

The play takes place mainly on the East side of Cardiff.
During the action of the play none of the characters leaves the stage.
When Peter Gill's production opened at the Royal Court it was played on a 24-foot square, steeply raked stage in which the gradient was 1:8. The stage was constructed of plywood shattering board which came from a building site and was cantilevered so that, when lit, it appeared to be floating. In order to avoid being overly austere the surface of the floor was painted with a collage of images suggestive of the atmosphere of the play.
Scene breaks in the action, indicating changes of mood and the repositioning of characters, are shown in the text by large spaces between speeches.
There will be one interval of 15 minutes
"This austerely passionate play... acknowledges that human life consists mainly of a losing battle against material circumstances and that the junk heap of past experiences increasingly clogs the route to the future." Irving Wardle, The Times, 1976

"This is a beautiful product of uncompromising puritan imagination." The Times, 1976

"This beautiful play is as much a challenge as 'Waiting for Godot' was twenty years ago, and if you just let it happen to you, you will find it a rich and rare experience." Harold Hobson, Sunday Times, 1976
Credits
Gerard
James Hazeldine
Like June Watson and Marjorie Yates, James Hazeldine has been associated with the Royal Court over a number of years: His first appearance in London was in NARROW ROAD TO THE DEEP NORTH in 1969. Since then he has been in many Royal Court productions including EARLY MORNING (1969), OVER GARDENS OUT (1969) John Antrobus' CRETE AND SERGEANT PEPPER and Arnold Wesker's THE OLD ONES (both 1972).

Other theatre work has been in Robert Shaw's CATO STREET at the Young Vic and E.A. Whitehead's THE FOURSOME at the Fortune. He has recently been playing Silvius in the Nottingham production of AS YOU LIKE IT which was seen at last year's Edinburgh Festival and has just been revived to open the new Riverside Studios in Hammersmith. He is frequently seen on television but is probably best known for the part of Frank Barraclough in the Granada series SAM. His most recent appearances include A RED LETTER DAY for Granada and Adam in THE CHESTER MYSTERY PLAYS for the B.B.C. and he will shortly be seen as Gaston in the B.B.C. T.V. serial of CAMILLE. His recent films include NICHOLAS AND ALEXANDRA, in which he played the young Stalin, THE RULING CLASS and THE NATIONAL HEALTH.

Mrs Harte
June Watson
June Watson first appeared at the Royal Court in OVER GARDENS OUT and LIFE PRICE (both 1969). She has worked extensively in repertory all over the country and played leading parts at, among others, Liverpool, Leicester and Edinburgh where she created the role of Mrs Edie Philips in the premiere of David Storey's THE RESTORATION OF ARNOLD MIDDLETON. She has been seen in London at the Mermaid in HANKY PARK, at Hampstead Theatre Club in THE HA-HA and in CATO STREET at the Young Vic where she later returned for a season which included JULIUS CAESAR and SHADOW OF A GUNMAN. Her numerous television appearances include the series ANGELS (BBC 1) WITHIN THESE WALLS (London Weekend) and the classic serial THE FORTUNES OF NIGEL. She has been seen in a number of Plays for Today, including EDNA THE INEBRIATE WOMAN, THE HALLELUJAH HANDSHAKE, BABY BLUES and most recently A FOLLOWER FOR EMILY.
Vincent
Phillip Joseph
Phillip Joseph is working at the Royal Court for the first time. He has recently been seen at the Half Moon in OUT FOR NINE about the General Strike and before that was in the West End as George Harrison in the Beatles musical JOHN PAUL GEORGE RINGO AND BERT. He has worked in repertory at Chester and Harrogate and spent two years at the Everyman Theatre in Liverpool where he appeared in Max Frisch's ANDORRA, Brecht's THE GOOD WOMAN OF SETZUAN, Harold Pinter's BIRTHDAYPARTY and John McGrath's FISH IN THE SEA. He has also been seen as Evan John in the B.B.C. production of HOW GREEN IS MY VALLEY.
Mrs Driscoll
Marjorie Yates
Marjorie Yates like James Hazeldine and June Watson has a strong connection with the Royal Court. She was first seen here in Edward Bond's LEAR and Brecht's MAN IS MAN and has subsequently played in a number of productions including AN EVENING OF VICTORIAN MUSIC HALL (1969) , THE MERRY-GO-ROUND (1973) and E.A. Whitehead's THE SEA ANCHOR (1974). She has worked extensively in repertory in Bristol, Liverpool and Birmingham and has recently been seen in MISS JULIE at Greenwich with Susan Hampshire. Her many television appearances include series such as SUSPICION (ATV), JUSTICE (Yorkshire) and VILLAINS (London Weekend) She was in the BBC Play for Today KISSES AT FIFTY and has recently been playing the social worker Jane Selby in the Thames TV series COUPLES. Her films are THE OPTIMISTS, THE LEGEND OF THE WEREWOLF and STARDUST.
Directed by
Peter Gill
Designed by
William Dudley
The production team for SMALL CHANGE brings together several people who have worked at the Royal Court over a period of years. William Dudley's first designs at the Court were the set and costumes for THE DUCHESS OF MALFI (1971) and since then he has been responsible MAN IS MAN and THE ANARCHIST(1971), LIVE LIKE PIGS (1972), MAGNIFICENCE, SWEET TALK and THE MERRY-GOROUND (1973) ,REMEMBER THE TRUTH DENTIST (1974) PARADISE (1975) and most recently Edward Bond's THE FOOL (1975).

At the National Theatre he designed Adrian Mitchell's TYGER in association with Jocelyn Herbert and THE GOOD NATURED MAN and also designed a number of productions at Watford, the Half Moon and Nottingham Playhouse and did David Rudkin's ASHES at the Open Space. He has designed opera in Germany and has just returned from Berlin where he co-designed THE NORMAN CONQUESTS at the Schiller Theater. Later in the year he will be designing BILLY BUDD at the Metropolitan Opera House New York.

Costumes designed by
Diedre Clancy
Deirdre Clancy first worked at the Court in 1967 when she did the costumes for THE DAUGHTER-IN-LAW, following this with designs for THE ERPLINGHAM CAMP and EARL Y MORNING later in the same year. Since then she has done the set and costumes for HOUSES BY THE GREEN (1968) SLEEPERS' DEN (1969), UNCLE VANYA (1970) and Edward Bond's THE SEA (1973) and the costumes for the D.H. Lawrence season (1967/8),MARYA (1967), TRIXIE AND BABA (1968), LEAR (1971), CRETE AND SERGEANT PEPPER'(1972)HEDDA GABLER(1972)and ENTERTAINING MR SLOANE (1975). She has also worked with Peter Gill at Stratford Ontario where she did the set and costumes for HEDDA GABLER and costumes for MACBETH. This marked the start of a series of Shakespeare productions which have included A MIDSUMMER NIGHT'S DREAM in Zurich and led up to the recent TWELFTH NIGHT (Stratford 1974) and AS YOU LIKE IT (Nottingham and Edinburgh 1975) — both with sets by William Dudley. She is currently designing the costume for THE WHITE DEVIL at the Old Vic and Goldoni's IL CAMPIELLO at the National Theatre.
Pippy Bradshaw
Pippy Bradshaw graduated from the Central School of Art and Design last June. Since then she has worked with John Napier on Richard III for the Royal Shakespeare Company and Twelfth Night for the Comedie Française. She has recently done the costumes for Brecht's TRUMPETS AND DRUMS at Nottingham Playhouse and for AS YOU LIKE IT at Riverside Studios Hammersmith.
Lighting by
Gareth Jones
Gareth Jones was an electrician at the Court for six years 1963/69 and then became lighting designer for the Theatre Upstairs. He was responsible for the lighting of most of the productions in the seasons 69/70 and 72/73.He has recently moved to take up residence in Wales where he is currently working for Theatre Yr Ymylon. SMALL CHANGE is the first play for which he has designed the lighting in the main auditorium.
Assistant Director
John Burgess
John Burgess and Pippy Bradshaw are both working at the Royal Court for the first time. John Burgess worked for two years as literary manager at the Open Space Theatre where his documentary CHICAGO CONSPIRACY was performed in 1970. In 1973 he spent three months at the T N P in Villeurbanne and subsequently co-directed the British premiere of Roger Planchon's BLUES WHITES AND REDS at Birmingham Rep (1974). He has worked at the Mercury Theatre Colchester where he directed E.A. Whitehead's THE SEA ANCHOR, THE UNSEEN HAND by Sam Shepard and John McGrath's TREES IN THE WIND (all 1975) and has recently been directing Brecht's THE MOTHER at Dartington. Translations include work by Roger Planchon, Tancred Dorst and Vsevolod Vishnevsky.
Stage Manager
Chris Heron
Deputy Stage Manager
Kate Coley
Asst. Stage Manager
Karen Little
Poster and Programme
Pip Paton-Walker
Rehearsal Photographs
John Haynes
Production Photographs
Zoe Dominic
Scaffolding by
Ariel Scaffolding
Floor painted by
Harkers
Wigs
Wig Creations
Mr Joseph's Hair
The Ginger Group
Jumpers knitted by
Jenny Hendry
Dyeing by
Pippy Bradshaw