Loading
Small Change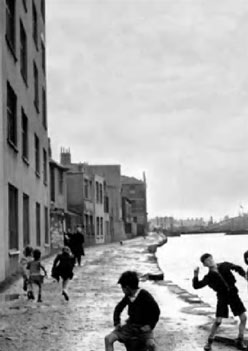 by Peter Gill
Donmar Warehouse
Donmar Warehouse, 10 April 2008
Set on the east side of Cardiff in the 1950s, Peter Gill's intoxicating and evocative masterpiece recalls the friendship between two boys and the relationship with their mothers, and the tragedy of the things that go unsaid and are forever unresolved.

Widely regarded as his finest play, Peter Gill returns to the Donmar to direct the first London production of Small Change in over a quarter of a century.
The performance lasts approximately 1 house and 55 minutes including a 15-minute interval.
Small Change was first presented at the Royal Court Theatre, London, in July 1976
Credits
Gerard
Matt Ryan
Theatre: Lovely and Misfit (Trafalgar Studios), A New Way to Please You, Believe What You Will, Speaking like Magpies, Tamar's Reviews, Pedro the Great Pretender Dog in the Manger, (RSC). Film: Miss Pettigrew Lives for a Day, Red Light Runners, Layer Cake, Pocket Money. Television: Holby Blue, Torchwood, Consenting Adults, The Tudors, Mine all Mine, Nuts and Bolts.
Mrs Harte
Sue Johnston
Theatre: The Masterbuilder (Albery), The Play What I Wrote (Wyndhams), The Mysteries (National), Hindle Wakes, Richard II (Royal Exchange Manchester), Sugar Sugar, Rage (Bush), Ghosts (New Victoria, Stoke), Two (Bolton Octagon and Young Vic). Film: Imagine You and Me, Boogaloo, New Year's Day, Face, Preaching to the Perverted, Brassed Off. Television: Jam and Jerusalem, The Royle Family, The Street, Who Do You Think You Are, Cutting It, Happy Together, Waking the Dead, My Uncle Silas, Score, Sex Chips, Rock n Roll, The Verdict, The Jump, The Things You Do for Love, Duck Patrol, Crime Traveller, Without Walls, Hetty Wainthropp Investigates, Measure for Measure, Into the Fire, Luv, Medics, Full Stretch, A Touch of Frost, Bitter Harvest, In Suspicious Circumstances, Inspector Morse, Goodbye Cruel World, Coronation Street, Brookside, Drink the Mercury.
Vincent
Luke Evans
Theatre: Rent (Duke of York), Dickens Unplugged (Edinburgh Festival), Avenue Q (Noel Coward), Minor Irritations (White Bear Theatre), Hardcore (Pleasance) Miss Saigon (UK tour), Taboo (Venue Theatre), La Cava (Victoria Palace and Piccadilly) Television: Crossroads
Mrs Driscoll
Lindsey Coulson
Theatre: Blame (Arcola), Snake (Hampstead), Royal Court Young Writers Festival, Hamlet (Shaw), The Silver Sword (Arts and tour), Canterbury Tales, The Snow Queen (Queens, Hornchurch), Stags and Hens, Trafford Tanzi (Swansea Grand). Film: Aka. Television: Doctor Who, New Tricks, The Street, Inspector Lynley, The Girls Who Came to Stay, Where the Heart Is, The Last Detective, The Stepfather, She's Gone, Feather Boy, Are You Looking At Me, MIT, Danielle Cable, Paradise Heights, Dalziel and Pascoe, Stretford Wives, Judge John Deed, Manchild, Clocking Off, EastEnders.
Director
Peter Gill
For the Donmar: Days of Wine and Roses. Recent theatre:The Importance of Being Earnest, Look Back in Anger (Theatre Royal Bath, national tour and West End), Gaslight (Old Vic), The Voysey Inheritance and Scenes From a Big Picture (NT), Epitaph for George Dillon (Comedy), Romeo and Juliet (RSC), Uncle Vanya (Field Day Tour),The Way of the World (Lyric Theatre Hammersmith), The Cherry Orchard, The Changeling (Riverside Studios). As writer as well as director: his plays include: The York Realist (English Touring Theatre at the Royal Court), Original Sin (Sheffield Crucible), The Look Across the Eyes and Lovely Evening (BBC Radio 4), Certain Young Men (Almeida), Friendly Fire, and Cardiff East, Mean Tears, In the Blue and Kick for Touch (NT).
Designer
Anthony Ward
For the Donmar: Mary Stuart, Uncle Vanya/Twelfth Night, Assassins, Nine, To the Green Fields Beyond. Other theatre: includes Macbeth (Chichester Festival and Gielgud), Chitty Chitty Bang Bang, Olivier (Palladium), Gypsy (Broadway), Oklahoma! - Olivier Award for Set Design (Lyceum and Broadway).
Lighting Director
Hugh Vanstone
Hugh has designed the lighting for more than 150 productions and worked for most of the national companies and extensively on Broadway. He has been nominated for six Laurence Olivier awards, winning three for: Pacific Overtures (2004, donmar), The Graduate (Gielgud) and The Cherry Orchard (NT) in 2000, The Unexpected Man (RSC) and The Blue Room (Donmar) 1998 Recent work includes: Present Laughter (NT), Desperately Seeking Susan (Novello), The Pain And The Itch (Royal Court), Rafta, Rafta (NT), Spamalot (Palace Theatre, Broadway, US tour and Las Vegas).
Producion Manager
Lucy Tory
Company Stage Manager
Kate McDowell
Deputy Stage Manager
Claire Yapp
Assistant Stage Manager
Patrick Stanier
Assistant Director
Abbey Wright
Costume Supervisor
Christine Rowland
Dialect Coach
Penny Dyer
Rehearsal Photographer
Hugo Glendinning
Production potographer
Johan Persson
Thanks to
Arielle Tepper Madover
Atrs Council England
Wardrobe Assistant
Morag Pirrie
Stage Management Placement
Fiona Coombe
Set constructed by
Miraculous Engineering
Set painted by
Luca Crestani
Additional Lighting Equipment provided by
White Light Ltd
Make Up provided by
MAC
Costumes from
Carlo Manzi & Cosprop
Wigs provided by
Campbell Young
Wigs Mistress
Lisa Pearce
Furniture by
Heron & Driver
Special Thanks
Aimée Barnett
JSW Creative
Spencer Solomon
David Shrubsole
Production Insurance
Walton & Parkinson
Production Accounting
Nyman Libson Paul