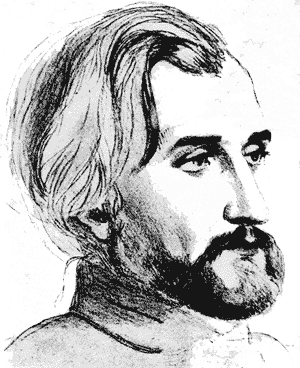 Ivan Turgenev
Henry James on Turgenev, 1878:
It would have been impossible to imagine a better representation of a Nimrod of the North. He was exceedingly tall, and broad and robust in proportion. His head was one of the finest, and though the line of his features was irregular there was a great deal of beauty in his face. It was eminently of the Russian type — almost everything in it was wide. His expression had a singular sweetness, with a touch of Slav languor, and his eye, the kindest of eyes, was deep and melancholy. His hair, abundant and straight, was as white as silver; and his beard, which he wore trimmed rather short, was of the colour of his hair. In all his tall person... there was an air of neglected strength, as if it had been part of his modesty never to remind himself that he was strong. He used sometimes to blush like a boy of sixteen.
Ivan Sergeyevitch Turgenev
was born on 28 November 1818 in the provincial capital of Orel, some three hundred miles southwest of Moscow. His father was an impoverished nobleman, a cavalry officer, who had married for money a woman six years his senior, Varvara Petrovna Lutovina, Turgenev's mother. She was the owner of a huge estate at Spasskoye where she ruled like a feudal despot.
Turgenev was brought up at Spasskoye and educated at the Universities of Moscow, St Petersburg and Berlin. In the 1840s he became friendly with many leading radicals, notably Bakunin, Herzen, and Belinsky.
In 1843 he met the Spanish opera singer Pauline Viardot. He remained under her spell for the rest of his life. He never married but lived for many years "on the edge of another man's nest" as a member of the Viardot household, with the full approval of Pauline's husband. The Viardots even brought up his daughter (by a seamstress on his mother's estate) as one of the family. Turgenev called Courtavenel, the Viardots' house near Paris, the cradle of his fame. The exact nature of his friendship with Pauline has never been defined but Turgenev himself once referred to it as an "unofficial marriage".
After 1847 Turgenev lived mainly outside Russia, and his mother's death in 1850 left him a rich man. He returned to Spasskoye in the summer months to write, but spent his winters abroad, usually with the Viardots.
He died of cancer in 1883 at Bougival near Paris. His many friends had included Flaubert, Henry James, George Eliot, Zola, and Maupassant.
Turgenev's first publication was a poem, Parasha. In 1847 he began regularly contributing to the radical magazine, The Contemporary. His first book, A Sportsman's Sketches, a collection of stories about peasant life, was published in 1852. The government complained that it portrayed landlords as "reprehensible characters". As a result Turgenev spent a short time in prison and was exiled to his estates for eighteen months.
He is best known for his novels — Rudin (1856), A Nest of Gentlefolk (1859), On the Eve (1860), Fathers and Sons (1862), Smote (1866), and Virgin Soil (1877). He also wrote many short stories and novellas, including First Love (1860), A Lear of the Steppes (1870), and The Torrents of Spring (1871).
He wrote ten plays between 1843 and 1852. Seven of these are short pieces, mostly burlesques depicting the life of the petty provincial gentry in Russia. Turgenev's three full-length plays are The Bachelor, A Poor Gentleman, and A Month in the Country.
Turgenev in a letter to Leonid Polonsky, 1869:
All through my career as a writer, I have never taken
ideas but always characters as my starting point.
V S Pritchett, 1977:
Indignant at the silence of the Press at Gogol's death [Gogol's The Government Inspector and Dead Souls ridiculed the official classes] Turgenev sent an ardent, personal eulogy to a Petersburg paper... His letter contained one very dangerous thought,"Only thoughtless and short-sighted people do not feel the presence of a living flame in everything uttered by him." ...The Petersburg censor banned the letter... [but] counting on the traditional jealousy between the Petersburg and Moscow censors, Turgenev easily got the Moscow censor to pass it. When the Tsar heard, he sacked the Moscow man and ordered Turgenev to be arrested for "manifest disobedience", the fundamental, everlasting Russian sin. When a timeserving University Chancellor called Gogol "a servile writer", Turgenev wrote a letter to a friend,"Sitting up to their necks in shit these people have undertaken to eat it to the full." The police intercepted the letter. Turgenev was sent to jail for a month and then to exile on his estate and remained under police supervision until 1856.
Goncourt journal, 1872:
Turgenev told us about this month in prison after the publication of A Sportman's Sketches ... He spent [it] in a cell in the archives of a local police station, where he passed the time reading the secret files ... He drew for us the police inspector who, tipsy with champagne, had touched him on the elbow, raised his glass and said "To Robespierre". Then Turgenev paused, lost in thought and said: "If I had any pride in these matters, my one desire for my tomb would be that they should engrave upon it what my book accomplished for the emancipation of the serfs. Yes, that's all I ask".
Turgenev's Parents
V S Pritchett, 1977:
It is tempting to trace Turgenev's life-long hypochondria to seeing the agonies of his father's death but... other influences pervade. Cholera moved from district to district among the peasants and the news of it besieged the minds of the landowners who shut themselves up in their houses when it was about. His mother feared it so much that she is said to have been borne round her grounds in a glass-enclosed chair when the plague came near. Spasskoye was a hothouse of imaginary symptoms... Much more important was the effect of the father's death on the mother's attitude to her favourite son. She now turned greedily, almost amorously to him for the love she had not received from her husband. Her possessiveness increased and in the storms she created in the household he fell into the part of the soother, the peacemaker, the slave of her moods.
Madame V Zhitova, c 1884:
"I don't know what you are talking about," I heard Varvara Petrovna's [Turgenev's mother's] voice as I went into the adjoining room.
"So my people are badly treated! What more do they need? They are very well fed, shod and clothed, they are even paid wages. Just tell me how many serfs do receive wages!"
"I did not say that they starve or are not well clothed," began Ivan Sergeievich cautiously, stammering a little, "but see how they all tremble before you!"
"Well, and what of it!" interrupted his mother, in a voice that clearly meant, and so they ought!
"But, mamma, just think what it must be like for a man to live constantly in such a state of fear! Imagine a whole life of fear, and nothing but fear! Their grandfathers, their fathers, and they themselves are all afraid... must their children also be doomed?"
"What fear? What are you talking about". Varvara Petrovna was annoyed.
"The fear of not being safe for a day, or for a single hour of their existence; today here, tomorrow there, where you will. That is not life!"
"I don't understand you".
"Listen, mamma, couldn't you now, this minute" — Ivan Sergeievich was becoming more and more excited — "if you wanted, couldn't you exile any one of them?"
"Of course I could".
"And if I ask you why?"
"If they deserve it".
"And if they don't? Couldn't you still do it, from a whim alone?"
"Of course I could".
"Then that only proves what I have always told you...
They are not people... they are things!"
"Then according to you, they ought to be freed?"
"No, why? I don't say that, the time hasn't yet come. "
"And won't come. "
"Yes, it will come, and it will come soon, " cried Ivan Sergeyevich passionately, and in the rather shrill voice he used when excited, and he walked quickly round the room.
"Sit down, your walking about worries me", his mother reproved him. "I see you are quite mad. "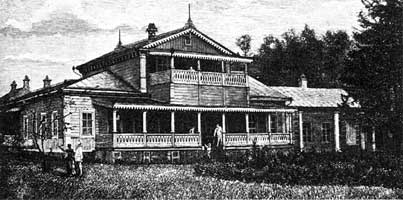 V S Pritchett describes Spasskoye (above), 1977:
Attached to the house were the quarters of the house serfs, the ice house, the bath house, the house for smoking meat, the tannery, the workshops, the water well and even a mill for making wall-papers and stationery... Most of the shoes and clothes... were made on the estate... [which also] produced all the food and drink it needed...
Spasskoye was less a house than a self-sufficient feudal community, the estate was an empire numbering 5,000 "souls" and extended to thousands of acres and included twenty villages which [Varvara Petrovna] ruled as an absolute sovereign... None of her serfs could marry without her permission: many she ordered to marry. They were allowed to have children, but once the child was born it was sent away from the house. ... Guests were always coming and going... and if she was giving grand dinners special food was sent for from Moscow 300 miles away... though usually in the winter the family moved to a house in Moscow... Wagon-loads of pork and geese and other meats and drink for the journey went on ahead, followed by carriages and carts containing serving women, laundry maids, valets, butlers, clerks, and the serf doctor, and finally in her own carriage the dominant Varvara Petrovna herself.
Dostoevsky on Turgenev, 1867:
I went to see him in the morning at 12 o'clock and found him at lunch. I tell you frankly: even before this I didn't like the man personally. Most unpleasant of all, I owe him money from 1857 from Wiesbaden... Also I don't like his aristocratic, pharisaic embrace when he advances to kiss you, but presents his cheek. Terrible, as though he were a General.
Turgenev on Dostoevsky, 1871:
He came to see me in Baden... not to pay back the money he had borrowed from me, but to curse me because of Smoke which, according to his ideas, ought to be burned by the executioner. I listened to his philippic in silence — and what am I finding out now? That I seem to have expressed every kind of offensive opinion... It would be out and out slander if Dostoevsky were not mad which I do not doubt in the slightest... But my God, what a petty dirty gossip.
Ford Madox Ford on Turgenev, 1881:
It seemed incredible that so male a giant should carry about with him a specific [scent] so feminine. I would put it down to the fact that so inveterate a Sportsman... must have been wearing Harris tweed... But yesterday I had my explanation. It would appear that Madame Pauline Viardot had, in the first place, prohibited for him the use of cigars... and then of snuff-taking, which he had adopted as a substitute. So to titillate his poor nose he had taken
Turgenev, in a letter to the young actress Mariya Savina who in 1879 in Moscow played Vera in A Month in the Country:
Alas, I will never be your sin... Am I in love with you?... I do not know - in the past such things were different. This irresistible desire to merge, possess -and to surrender — when even the urging of the flesh loses itself in a kind of lambent flame — I am probably babbling, but I should have been immeasurably happy if only... if only...
Turgenev in a letter to Pauline Viardot from France where he had made a long stay in 1852 though realising that his life in Russia was essential to him as a writer:
Russia can wait — that immense and sombre figure motionless and masked like the Sphinx of Oedipus. She will gulp me down later. I can see her coarse, inert look fixed on me with gloomy attention, as befits eyes of stone. Set your mind at ease Sphinx. I shall return to you and you can devour me at your leisure if I do not solve your riddle for yet a little while.
Books quoted and consulted: The Gentle Barbarian by V S Pritchett (Chatto & Windus, 1977); The Turgenev Family by Mme V Zhitova. trans A S Mills (Harvill, 1948); Turgenev and England by Patrick Waddington (Macmillan, 1980).

Grateful thanks to John Burgess for writing and research.