Dream on
Since being plucked from obscurity to star in Father of the Bride, Kimberly Williams has lived a showbiz fairytale. Clive King of The Times finds that she hasn't finished dreaming yet.
HIGH HOPES: "I'd love to play Juliet, write a play and direct" Photograph: MITCH JENKINS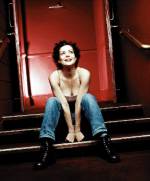 ©
If Kimberly Williams had a catchphrase, it would have to be: "It was a dream come true." Ever since she was chosen from hundreds of hopefuls to play the prenuptial heroine of the 1991 hit movie Father of the Bride, the American actress finds she has to use it all the time.
Since that first movie, in which she starred with Steve Martin and Diane Keaton, Williams has made eight films, appeared on Broadway, starred in a television show and will shortly be seen as the lead in The 10th Kingdom, a ten-part mini-series to be screened on Sky One. Add her forthcoming West End debut to the list, and you realise that there is more than a touch of the fairytale to Williams's career.
Taking a break from rehearsals for Speed-the-Plow, a major new production of David Mamet's satire on Hollywood power-play, Williams is warm and friendly, apologising between coughs for her heavy cold. Even prettier and more petite in person than on screen, at 28 she appears to have barely aged since Steve Martin walked her down the aisle almost a decade ago.
The eldest child of a writer father and school fund raiser mother, Williams grew up in New York. As a child she appeared in several television commercials and at 18 began a drama course at Northwestern University, Illinois. In her second year, Williams won that first "dream role", in Father of the Bride. After filming, she astounded Tinseltowners by hopping on a plane back to college and her unfinished degree. "I don't think that I even realised I was turning my back on Hollywood," she claims. "For me, it was never really an option not to go back to school."

After graduating in 1993 Williams returned to Los Angeles and appeared in several independent films. Then came the inevitable Father of the Bride Part II. But Williams admits that she was a little reluctant to revisit the role four years down the line. "Everyone still saw me as just The Bride at that point and I was anxious to break out of that role," she explains.
In her quest to do that, Williams belives British directors have been more ready to recognise her versatility than their American counterparts. "Perhaps because they don't know me quite so well as the girl from Father of the Bride, the Brits are more willing to try me out in different parts," she says.
Her opinion is based on her experience last year acting in the upcoming British drama Elephant Juice. "I play a very different kind of role to The Bride," says Williams. "I have bleached-blonde hair and dark roots. And the character is grounded, earthy, wears a leather jacket with big boots and has a baby, but she's not married."
Any lingering traces of The Bride were finally laid to rest with Simpatico, Matthew Warchus's recent film adaptation of Sam Shepard's 1994 play. Williams portrayed the younger version of Sharon Stone's character, Rosie. Asked if the two actresses discussed the role they were to share on screen, Williams makes a face then smiles wryly. "You would have thought so," she replies, carefully. "But Sharon was . . . very busy."
One Simpatico co-star she did spend time with, at uncomfortably close quarters, was Albert Finney. As part of a plot to blackmail Finney's character, Rosie allows him to brutally ravage her while they are secretly photographed through a two-way mirror.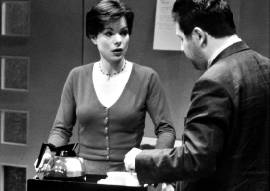 ROLE PLAY: Kimberly Williams with Patrick Marber in Speed-the-Plow
"That was tough," Williams says. "But I give Matthew Warchus and Albert full credit. The three of us sat down and discussed in detail what was going to happen, what people would see and wouldn't see. Matthew wanted to find a way of doing it that we all felt comfortable with. Then Albert took me around the corner and said, 'Look, I'm padded.' He put my hand on his crotch and said, 'Just so you know, I can't feel a thing.' At first I was shocked but I'm so glad he did that, because it helped me to cross that bridge and do the scene."
In 1996 Williams won the lead in Relativity, a primetime television drama from the producers of Thirtysomething. But even though it was fêted by critics, the show lasted just one season. "It was so frustrating going to work not knowing if we were continuing or not," sighs Williams. "I never knew if it was going to be seven years of my life or just seven months."
Relativity's failure may have been a blessing. Williams prefers to work in film and theatre rather than television. "Because TV happens so fast, I feel a sense of panic," she explains. Yet, despite the misgivings, she could not resist the offer to star in The 10th Kingdom alongside Dianne Wiest, Jimmy Nail and Rutger Hauer. Penned by Simon Moore (Gulliver's Travels), it is an exhilarating journey into the dark side of bedtime stories.
"Simon has woven together all the old fairytales and updated them, exploring what happened after Happily Ever After," explains Williams, whose character Virginia is a New York waitress thrust into a parallel world inhabited by trolls, talking dogs and evil stepmothers.
While filming The 10th Kingdom, Williams met her current boyfriend, an actor whose identity she politely refuses to disclose. "But it's good and I'm very happy," she says. "I just don't want to make a story out of it."
Her reticence is understandable. Williams suffered two years of camera-bulbs flashing each time she ventured out with her former boyfriend, tennis player Pete Sampras. Despite tabloid speculation that marriage was on the cards, the pair broke up last year. "It's hard to have long-distance relationships," says Williams. "And I've always been kind of a private person, so I tried to keep a lot of it out of the public eye. That helped me to retain some sort of sanity."
In 1997, Williams made her Broadway debut in the play Last Night of Ballyhoo. "I had grown up walking along Broadway and looking at the marquees," she remembers. "To know I was going to actually perform there was exciting, but intimidating. People have a lot more respect for theatre actors than for film actors and I had to show that I was capable of doing both."
She is about to prove the point again, in Peter Gill's production of Speed-the-Plow. Williams plays the role first played by Madonna in the original New York production of Mamet's 1988 drama. Karen is a temp assigned to work for movie producer Bobby Gould (Mark Strong) on the day that Bobby is pitched a sure-fire idea for a blockbuster movie by his grovelling colleague Charlie (Patrick Marber). The seemingly naive secretary tries to persuade Bobby to pursue a different project, based on a weighty novel about the end of the world. Though unversed in the ways of Hollywood, she tries to outplay the players by using the idea herself.
"The message of the play is that there isn't a lot of room for morality in the movie business," explains Williams. "Someone who has grand ideas and wants to remain pure simply doesn't belong there."
I wonder if Mamet's portrait of an industry run by self-important Philistines tallies with her own experience. She laughs. "Oh, yes. I recently told some producers in L.A. that I was doing Speed-the-Plow and they all said, 'Oh my God, I love that play!' Now, having studied it, I want to go back and ask them what they like about it. Is it that they see themselves in it — or maybe that they don't and they should? They all seem to love it, just because it's about Hollywood."
Williams confesses that she longs to play Juliet and to write a book or a play. "I'd also love to direct but right now I'm still trying to become a better actor. I'm not quite ready for that yet."
It can only be a matter of time. After all, Kimberly Williams's dreams have a habit of coming true.
Speed-the-Plow is at the New Ambassadors, West Street, London WC2, March 14-April 22 (0171-836 6111). The 10th Kingdom starts on Sky One on April 16 at 7pm.
Metro CV: Kimberly Williams

THE BRIDE: With Steve Martin
DATE OF BIRTH

September 14, 1971

PLACE OF BIRTH

Rye, New York

PARENTS

Journalist father and school fund-raiser mother

MARITAL STATUS

Unknown actor boyfriend

CHILDREN

None

LIVES

Los Angeles

DISTINGUISHING CHARACTERISTICS

Petite; cute nose

STAR SIGN

Virgo