Compelling and unmissable
Charles Spencer reviews The Voysey Inheritance at the National Theatre, The Daily Telegraph
27 April 2006
Harley Granville Barker's wonderfully rich and satisfying play was first performed in 1905, and in some respects it shows its age. There is a smell of furniture polish, cut flowers, cigars and Edwardian confidence about it, a manifest relish for solid, five-act craftsmanship and the occasional dash of melodrama.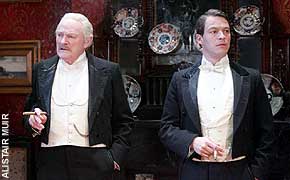 Satisfyingly solid: Julian Glover and Dominic West in The Voysey Inheritance
But, beyond the period atmosphere, beautifully evoked in Peter Gill's loving production in the Lyttelton Theatre and by Alison Chitty's satisfyingly solid, naturalistic designs, the play feels as up-to-date as tomorrow's headlines.
This is a play about a seemingly respectable Edwardian family whose wealth and complacent comfort are founded upon fraud. For 30 years the paterfamilias, Mr Voysey, a successful solicitor, has been speculating with his clients' capital, initially to try to make good the depredations of his own father, but then because he acquired a gambler's addiction to risk and the money it can bring.
In the first act, we see him confronting his appalled son, and trying to persuade him to carry on with the family's dishonourable tradition - or bring ruin to both those he loves and the firm's clients.
There is something about Mr Voysey, with his belief in the holy trinity of family, religion and business, and his touching certainty that anything he does can't possibly be wrong, simply because it's him who's doing it, that puts one in mind of our present Government and our PM.
One thinks of stealth taxes, Gordon Brown's raid on pension and trust funds, and Tony Blair's enormous mortgage, profligacy with peerages and insistence that he's a pretty straight kind of guy, and one has the spooky feeling that Granville Barker saw it all coming. He didn't, of course. It's just that greed and corruption don't change much with the times, and the dramatist understood how they work and what they do to people.
By keeping the play so firmly in period, however (there is a sound montage between each act that evocatively conjures the Edwardian age), Gill allows us the pleasure of spotting contemporary resonance for ourselves, rather than ramming it down our throats. And throughout one marvels at Granville Barker's gift of bringing at least a dozen characters to vivid life as well as creating such a persuasive group portrait of a family and a thundering good plot.
The NT enjoyed great success with The Voysey Inheritance in 1989, in a production by Richard Eyre. It seems to be a lucky play for the theatre and is exactly the kind of large-scale, thought-provoking classic it ought to be reviving.
The only slight disappointment on opening night was that Julian Glover didn't seem fluent enough as Mr Voysey. He memorably captures the character's commanding presence and smug complacency, but kept stumbling over his lines, something this practised deceiver would never do.
Dominic West is superb, however, as his third son, who finds himself burdened with the family's secret shame. At first, he's so appalled that he bursts into tears, but, in the course of the play, West movingly shows a man rising to a moral challenge, discovering his own worth, and abandoning his priggishness. It's very touching, especially when his love for Nancy Carroll's sparky, stylish Alice is finally reciprocated.
Andrew Woodall delivers a comic tour de force as his older brother, the hilariously blustering, bullying Major Booth Voysey, and among the supporting cast John Normington, John Nettleton, Martin Hutson and Kirsty Bushell shine particularly brightly.
This is a great play that finds the National at the top of its game.
Tickets: 020 7452 3000
© Copyright of Telegraph Group Limited 2006.