The Voysey Inheritance, Lyttleton Theatre, London
Compelling and unmissable
30 April 2006
There is a compelling dilemma at the centre of the The Voysey Inheritance by Harley Granville- Barker.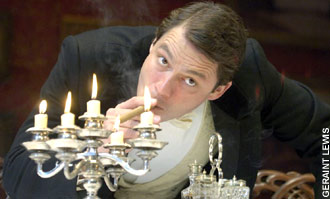 Miraculously charismatic: Dominic West as Edward the honest son
So compelling in fact that despite a half-hearted and vague central performance from Julian Glover you do want to keep going with this revival, directed by Peter Gill at the National's Lyttelton Theatre.
Reward for such stoicism comes when Glover's character dies before the end of the first half after confessing to his almost preternaturally honest son, Edward (Dominic West), that he has been generating personal income by defrauding clients of the family firm.
Credit goes not only to Granville-Barker for writing in 1905 what must have been a socially divisive play – the great and the good having feet of clay, etc – but to an otherwise excellent cast and an exquisite doll's-house-like set.
Much of the action takes place in the dining-room at the Voysey's house in Chislehurst, which is stuffed with aspidistras and ferns in shiny pots.
There the family, including bombastic Booth (Andrew Woodall) the second son, and put-upon Honor (Lucy Briers), gather to work out what must be done about the family disgrace.
Mrs Voysey (the always appealing Doreen Mantle) pleads deafness and buries her head in a copy of the Sketch . Another son, Hugh (Martin Hutson), whines pointlessly about not being a sufficiently good artist, and his feminist wife (Kirsty Bushell) makes arch remarks about class and privilege.
It is left for stalwart but dull Edward to choose whether to carry on as his father did, or to confess all and risk jail, or to beaver miserably away in an ultimately futile attempt to pay back the clients.
Dominic West turns in a miraculously charismatic performance given that he is playing such a stodgy, if honourable, fellow, and when he and clever, beautiful Alice (Nancy Carroll), a family friend and the love of his life, finally come together at the end you want to slap him on the back.
© Copyright of Telegraph Group Limited 2006.