Our Very Own Ibsen
A century ago, Harley Granville Barker came up with a thrilling new kind of theatre: realistic, political and tough. Now it's time to experiment again - and the man himself would be the first to agree, argues director David Farr
David Farr, Guardian, 25 April 2006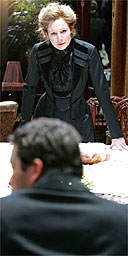 It's an interesting time for the National Theatre to be reviving a Harley Granville Barker play. The National's role in our culture appears once more to be up for debate: in a recent piece in this paper, Michael Billington contested that Nicholas Hytner has unnecessarily disposed of the old trusty heavyweight writers, from George Bernard Shaw down to David Hare, in his rush to embrace new forms and talent. If this is true, then The Voysey Inheritance's appearance on the Lyttelton stage is just what the doctor ordered.
But I'm not so sure that Granville Barker himself would agree. He was, in his day, one of the most experimental and progressive theatre practitioners around. He rejected the accepted fashions of the time and forged a New Theatre that would dominate British drama for 100 years.
Born in 1877 of an entertainer mother (she did bird imitations) and an architect father (he was lazy), Granville Barker was at the vanguard of the New Theatre of the 20th century - theatre that rejected Victorian pleasure-seeking in favour of tough social realism and political debate. He was the director of choice of George Bernard Shaw, 11 of whose plays he directed at the Royal Court in London between 1904 and 1907.
In his writing, he avoided melodrama and substituted contemporary political debate about society and the individual, in the shadow of the great Norwegian playwright Henrik Ibsen. The Voysey Inheritance, which documents the decline of an established family City law firm into fraud and embezzlement, is suffused with the great Ibsen themes of inherited shame and the endemic corruption of the new capitalism. Granville Barker may lack Ibsen's genius for theatrical metaphor, but he was equally progressive, and nearly matched him in psychological insight.
Although Granville Barker focused on the rotten conscience of the late-Victorian and early-Edwardian middle and upper classes, it is possible to trace a line from his brand of social realism to the tougher working-class naturalism of John Osborne's Look Back in Anger almost 50 years later, and also at the Royal Court today. Granville Barker was one of the first 20th-century English writers to consider putting the real world on to the stage; if his plays now seem conventional in structure and style, we must remember how radical a step that was.
As a director, he was also a visionary. In his Shakespeare productions he shirked the conventional ornate, decorous style, with its huge pseudo-naturalistic sets and elongated verse-speaking, in favour of bare stages, fast-flowing action and natural speech rhythms. The result was, according to Shaw, remarkable: "To the imagination it looked as if he had invented a new heaven and a new Earth." His legacy as director can be seen in the modern productions of Shakespeare by Cheek by Jowl and Deborah Warner, and in the fluid, contemporary, often minimalist work of directors such as myself and Dominic Cooke. Granville Barker's influence over a very English style of writing and a rather European style of directing is unique.
He was also at the centre of the very first campaign to form a National Theatre. In 1907, along with the critic William Archer, Granville Barker wrote a blueprint for a National Theatre, to be distributed to government and public figures. In it, he argued passionately for a living subsidised theatre that released the form from commercial managements' stranglehold on artistic freedom and social expression. Some of the barriers he fought against remain with us today: short rehearsal periods, star casting, the reliance on the trusted revival over new experiments. He argued for a repertory system of productions with a large resident company of actors. More than anything, he foresaw and encouraged what is sometimes disparagingly known as "director's theatre", in opposition to commercially led "actor-manager's theatre". He was after an environment in which artistic vision could be granted its full potential to flourish.
In this, like so many other British visionaries, Granville Barker was to be frustrated. Unlike Edward Gordon Craig before him and Peter Brook after him, he did not have to go abroad to find the necessary climate for his creativity. But he did end up abandoning his efforts (out of pure exhaustion, one imagines) and sliding into a society marriage with an American heiress, adding a hyphen to his name and dwindling into bland respectability in a chateau in France. His life ended in a very British disappointment. But his ideas were prophetic and extraordinary. We are all in debt to Granville Barker.
Today, Granville Barker's ideas have been assimilated into the mainstream - and now we must go beyond him in our new work. The kind of theatre he advocated - essentially the tentative beginnings of social realism - has been embraced for over 40 years. We need to move on again, and realise that if theatre is evolving beyond this, it is for a very good reason. It frustrates me when reactionaries wonder where all the political and society plays have gone. Have they never watched television? Do they not think that, had he been alive today, Granville Barker wouldn't have been straight off to the BBC to make his version of Troy Kennedy Martin's Edge of Darkness, Abi Morgan's Sex Traffic or Peter Flannery's Our Friends in the North? Meanwhile, theatre has returned to what the Greeks began and Shakespeare did most brilliantly: making stories in an empty space.
In the past five years, London theatres such as the Lyric Hammersmith, the Young Vic and the National, and regional theatres such as the Bristol Old Vic, the West Yorkshire Playhouse and the Theatre Royal Plymouth have caused a massive revival in theatre's popularity by refocusing on what it does naturally: the live, immediate, dangerous, collective and ephemeral experience. Our aim is to produce new, urban, diverse work that speaks to a modern audience. I emphasise modern, not young, because what is clear from the response to shows such as Nights at the Circus and Jerry Springer - the Opera is that when one gets this right, older audiences flock to the shows, and the holy grail of a crowd from varied backgrounds is gloriously achieved.
The charge against this New Theatre is that what it has in theatrical flair, it lacks in intellectual seriousness. At worst it is accused of exactly the same emptiness that so irked Granville Barker about Victorian entertainment. There is some truth in this, and New Theatre has a responsibility to be more than just formal trickery. It must challenge audiences on political, psychological and social levels. But the fact that we do not always meet this challenge does not mean we should go back to archaic forms of theatre. It simply means that the New Theatre has not fully grown up yet. When it does, we will have much to get excited about.
It is also clear that we must redefine the whole meaning of "new work". Granville Barker relentlessly championed the importance of new work at the beginning of the 20th century. It is time for us to take up his challenge once again at the start of the 21st - but in a new way. New work can no longer be restricted to a conventional writing process. Writers, directors and performers are working as never before to unearth new ways of telling new stories.
I think that far from being threatened by this collaborative way of working, the writer will emerge stronger. We are already seeing this in the relationship between the writer David Eldridge and the director Rufus Norris: their collaboration on Festen was the great hit of 2004 and has directly led to a hugely ambitious new piece for the National, Market Boy. In the autumn the Lyric will present Pool (No Water), a new collaboration between physical movement company Frantic Assembly and the writer Mark Ravenhill. There is an explosion of possibility in our form right now, and what we don't need is anyone pulling us back by the reins.
In the meantime, I shall be heading to The Voysey Inheritance with excitement: partly to witness the Barkeresque minimalist craft of the play's director, Peter Gill, and partly to pay tribute to a great theatrical radical at the dawn of a new century. I will need to be at my most imaginative to conjure in my mind the conservative world Barker was grappling with as he tried to break convention with his shocking new brand of theatre.
Or maybe that won't be so hard to imagine after all.
· The Voysey Inheritance opens at the National Theatre, London SE1, tomorrow. Box office: 020-7452 3000. David Farr is artistic director at the Lyric Hammersmith, London