Se'welling with religious fervour
© Associated Newspapers Ltd., 4 October 2001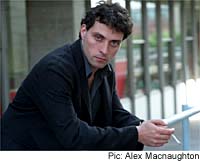 Ever since his appearance in Middlemarch caused palpitations across Middle England, Rufus Sewell has battled with the fervid fantasies provoked by his romantic hero looks.
This has led, in some interviews, to two Sewells: the "smouldering", "brooding" or "saturnine" character tremblingly described by journalists, and the defiantly anti-glamorous, beer-swilling lad he changes into the moment he opens his mouth. Commenting on his role as the villainous Count Adhemar in the recently released A Knight's Tale, he told one paper: "There's nothing worse than a hangover in armour. There's nowhere for it to go."
But when I meet him at the National Theatre, he is equally emphatic that he is not a "Jack-the-lad. What you read in these interviews is a defensive reaction to a barrage of bullshit," he protests. "If somebody asks me what it was like to be a Byronic eight-year-old, of course I'm going to contradict that image. But now it's gone too far in the other direction —it seems as if I walk into an interview and say: 'I used to be fat.'"
All preconceptions about Sewell are about to be blown away. He is playing the lead in John Osborne's Luther, a visceral and passionate role which shows a man tortured as much by his bowels as by his religion. When asked how he approached the character whose spiritual wranglings led to the Protestant Reformation, he says: "I read the play and I didn't entertain ideas of whether it was beyond me or not —I just had a blanket acceptance of the fact that it was beyond me. So why not try it?"
In Osborne's text, a strident contrast is made between Luther's agonised intellectual struggles and the down-to-earth approach of his overbearing miner father, Hans, who describes Martin's monkish appearance as "an egg with a beard".
Sewell recognises that Luther's difficult relationship with his father was a major factor in shaping his revolutionary attitude to Christianity, but concedes that "the person I sided with immediately was the father — pain in the arse, and domineering nightmare though he was. I felt completely divorced from Luther's total belief — so the main job for me was finding a position where I didn't agree with his dad any more."
Sewell's relationship with his own father was difficult. Bill Sewell was the Australian animator responsible for the Lucy in the Sky with Diamonds sequence in the Yellow Sub-marine cartoon and fatherhood was low on his list of priorities. Rufus was 10 when he died, but says: "He wasn't much use when he was around."
Even so, when I ask him if donning a monk's habit has had any effect on his attitude to religion, he cites his father as a partial inspiration. "My father ended up with the Maharishi and used to do transcendental meditation every day. I respect that." Not that Sewell has any illusions about the Maharishi's motivations for becoming closely involved with the Beatles and their followers: He even speculates as to what the Maharishi might have been up to with Mia Farrow. He imitates the Maharishi saucily squeezing her and laughs. "Transcend that, mate."
While Sewell has enjoyed success in films such as Carrington, Cold Comfort Farm, The Woodlanders and The Honest Courtesan, his last stage outing as Macbeth — two years ago — was badly received.
He denies that it was "a negative experience" but the words explode out of his mouth when he exclaims, "What pissed me off is that journalists implied that it was put on as a vanity production — as if I'd said 'I've got a great idea, let's do Macbeth with me in the title role.' The point is that I was offered the job, and I accepted it."
Calming down, Sewell proposes an enjoyably contrary theory about how directors should seek out suitable actors. "I have the idea that when actors perform their dream roles they tend to be very boring to watch. I personally like to be miscast, because that's when I tend to be cast well." By that indication, the boy who was brought up with no organised religion, who was allowed to wander naked round the house by his free-thinking mother and spent his teenage years bunking off school should do brilliantly as the physically ill at ease, passionately scholarly monk, Martin Luther.