Osborne's raw and eager best
(Filed: 28/09/2005)
Charles Spencer reviews Epitaph for George Dillon at the Comedy Theatre
The years have not been kind to John Osborne's reputation. With the exception of Look Back in Anger and The Entertainer, his plays are now rarely revived and even those two famous works now seem distinctly frayed around the edges.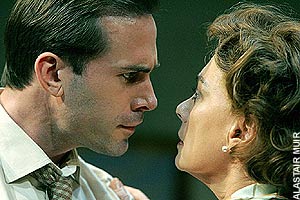 I have always found something heroic in Osborne's bracing intemperance and bile, but these very qualities did tend to turn his drama into interminable rants, with one central character raging away in a voice that always sounded remarkably like his author's.
Indeed, it is my belief that Osborne's finest work is not to be found in his stage plays at all but in his two recklessly candid and wonderfully written volumes of autobiography, A Better Class of Person and Almost a Gentleman.
But Epitaph For George Dillon, an almost forgotten early play written in collaboration with his friend Anthony Creighton (who insisted, but only after Osborne was dead, that they had also been lovers) turns out to be something special.
It was written in a few weeks in 1954, two years before Osborne's reputation was made with Look Back in Anger after which his life, and some would argue, British theatre, would never quite be the same again.
What is moving about the play is that you can almost smell the fear of a young writer confronting the possibility of his own lack of talent. In George Dillon, Osborne seems to be presenting his worst nightmare of what he might one day become.
Like Osborne at the time, Dillon is a struggling actor and playwright, stony broke, and with few prospects for the future. A lower middle-class, middle-aged woman who has lost her son in the war, sees him as just the kind of chap she could mother and he moves into her stultifying suburban family home like some bitter cuckoo in the nest
In the course of a year we watch as Dillon's desperate dreams of greatness are extinguished by compromise, illness, an unwanted pregnancy and above all a corrosive lack of confidence in whatever talent he once believed he might have.
What makes the play so unusual in the Osborne canon, however, is that it is not the usual solo turn. The family who take Dillon in, including the maternal Mrs Elliot and her viciously sour husband, Percy, her two daughters and her bohemian sister Ruth, are all drawn with marvellous detail. For once an Osborne play seems like an ensemble piece.
In Peter Gill's wonderfully detailed, naturalistic production (only marred on the first night by a hilarious mishap with a malfunctioning door handle which Osborne would surely have recognised from his own days in rep) the shabby gentility and claustrophobia of England in the mid-Fifties is captured with chilling precision. You only have to take in the painting of the flying ducks at sunset, the monumental anti-macassared three-piece suite and the radiogram broadcasting the Light Programme to know exactly where and when you are.
Joseph Fiennes, as forlornly tall and gangling as a depressed giraffe, memorably captures the patronising smiles and unearned superiority of Dillon, as well as his terrifying dawning awareness of his own mediocrity. And in one of the few really strong women's roles Osborne ever wrote, Francesca Annis matches every bruising verbal sally as the once free-spirited but now defeated Ruth. The mixture of sexuality and desolation in their scenes together seem like the very essence of Osborne.
There's terrific support from Anne Reid as the vacuously kind and cheerful Mrs Elliott, and Geoffrey Hutchings as her vile husband, but there isn't a single weak performance in this acidly funny production which suggests that this neglected play might just be Osborne's greatest.
Information appearing on telegraph.co.uk is the copyright of Telegraph Group Limited and must not be reproduced in any medium without licence. For the full copyright statement see Copyright