Epitaph for George Dillon
**** Comedy, London
Review by Michael Billington, Guardian, Wednesday September 28, 2005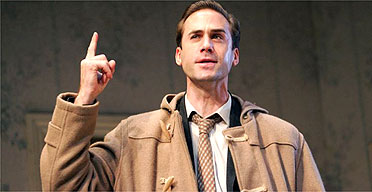 This is the play John Osborne wrote with his partner, Anthony Creighton, before Look Back In Anger catapulted him to fame. It is a fascinating mix of the 1950s rep play and the romantic excavation of pain and doubt so beloved of Osborne.
I suspect Creighton's hand in the admittedly very funny exposition: a portrait of the stifling, lower-middle-class Elliot household that becomes almost Ionesco-like in its procession of banalities. And Peter Gill's production and John Gunter's design exactly capture the gestures towards ghastly good taste of 1950s suburbia: the Radio Times lovingly encased in an embroidered folder, the square mantelpiece clock, the kitsch picture of birds in flight.
But with the arrival of the eponymous hero, a struggling actor-playwright who becomes a surrogate son for the doting Mrs Elliot, Osborne unmistakably announces his presence. It is not simply that George is an embryonic Jimmy Porter with the same withering contempt. He also has that "nag of disquiet" that was Osborne's defining quality. And in the confrontation between George and Ruth, Mrs Elliot's leftwing sister, you get writing of real passion. The disenchanted Ruth is quickened into laughter by George's sardonic wit: at the same time George himself is crippled by doubt as to whether he has the symptoms of talent - "the pain, the ugly swellings, the lot" - without the real disease.
Admittedly the play sometimes seems a parody of an old rep piece. In the third act, George is advised by a spivvy producer, brilliantly played by Stephen Greif, to tart up his putative play by getting a girl in the family way; and in life George does exactly that.
But the play exudes that peculiar Osborne flavour: a dislike of mean, middle-class values exceeded only by the author's self-hatred. It also holds the stage extremely well. Joseph Fiennes as George has the ability to switch in a second from youthful ebullience to a desolate fatigue. He also rightly leaves you in doubt as to whether George is a posturing mediocrity, or a real talent who sells his soul for suburban safety.
Francesca Annis is equally impressive as the wan, emotionally bereft Ruth who has knowingly settled for less. Anne Reid invests Mrs Elliot with a smothering motherliness, and Geoffrey Hutchings is quietly hilarious as her truculent husband. While I'm not persuaded this is a better play than Osborne's own unaided work, it offers the deep and pleasurable satisfaction of seeing a major writer discovering his voice. Even if the pain and passion burst through the conventional form, Gill's fine production honours an unjustly neglected play.
· Until Jan 14. Box office: 020 7369 1731
Guardian Unlimited © Guardian Newspapers Limited 2005