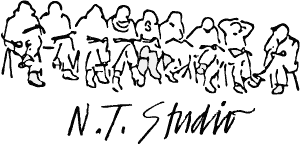 The National Theatre Studio
September 1987
The NT Studio has two principal functions: to generate new and experimental work through projects, playreadings, and small scale productions; and to provide the NT Company with an opportunity to refine and extend their skills.
The Studio is in the Old Vic Annexe, which used to house the NT wardrobe and workshops and has now been converted to provide one small and two large working spaces.
There are regular workshops in movement, voice and singing, opportunities for scene study, and a weekly warm-up for all company members. Side by side with these are monthly projects involving a director, a writer and a group of actors working on either a play, an idea, or an adaptation of some already existing material. These projects take three weeks of every month. The fourth is usually kept for playreadings of new work by British and foreign writers.
Regular Studio Nights take place in the Cottesloe Theatre when examples of work-in-progress are shown to the general public for one night only.
The National Theatre Studio is sponsored by Sainsbury's. It receives support from the NATIONAL THEATRE FOUNDATION (a Trust set up by the NT Board). Its finances are not drawn from NT funds; the money is raised entirely from private sources. The Old Vic Annexe has been leased rent free to the NT by Ed Mirvish, the owner of the Old Vic.
| | |
| --- | --- |
| Director of the Studio | Peter Gill |
| Associate Director | John Burgess |
| Studio Manager | Sue Higginson |
| Technical Consultant | William Bundy |
| Classes Assistant | Diane Borger |
| Housekeeper | Harry Henderson |
| Cleaner | Margaret Dorgan |
Home | Up | 1975-1983 | 1984-1999 | Studio Membership | NT Studio
Send mail to with questions or comments about this web site. Copyright © 1999-2011
Last modified: 2011-05-31