Loading
Speed-y exposure to Hollywood
Speed-The-Plow
Director: Peter Gill. Patrick Marber, Mark Strong, Kimberly Williams
If you have ever wondered about the daily comings and goings in Hollywood, David Mamet's Speed-the-Plow is a black fantasy of life behind the scenes in the seedier side of California's tinsel town.
When it comes to greed, sex and sheer stupidity you cannot beat a Hollywood film producer. Or so David Mamet's Speed-the-Plow, a black fantasy of life behind the scenes in California's seedy tinsel town, would have us believe. Mamet has no new beans to spill about the daily comings-on in Hollywood, where as scriptwriter and director he has risen high above the usual flop of low standards. The success of Speed-the-Plow, first seen in 1988, does not depend upon the authenticity of its plot or its characters' eager plotting: Mamet's dramatic narrative is so far-fetched it requires belief to be stretched to snapping point. It's best to accept the play as a satirical trip through the Hollywood dream factory.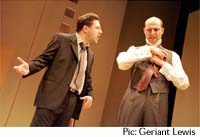 Mamet's ear, always cocked at life's more interesting keyholes, deftly catches the bluster, spontaneous insincerity and imposing vacuousness of Hollywood-speak. The play's charming notion is to show Gould, a head of production succumbing in real life to as wild a fantasy as those peddled in his films. Under the influence of sex, in the shape of his weird, temporary secretary, Karen, Mark Strong's Gould prepares to abandon a starry, commercial script in exchange for one that sounds a recipe for box office poison and speaks its message in doom-laden psycho-babble.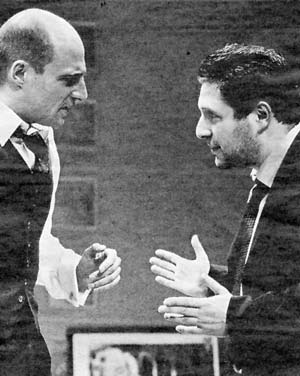 Mamet must have had great fun in composing extracts from this mad script, with its message about radiation sent by God, and a worldwide epidemic of fear. Kimberly Williams' Karen reads the text aloud to Gould in a quaking, awestruck voice that would not be inappropriate to the second-coming. The production head's ultimate rescue from this professional fate worse than death is only achieved because of the violence and truth-telling of his associate, Patrick Marber's Fox. It's Fox who exposes Karen as a threat to all that Hollywood holds dear — its profit sheets. John Gunter sets the scene of Peter Gill's slightly ponderous production, in a characterless Hollywood office where Mamet fires his basic satirical shots at the greed-soiled moguls. "Is there such a thing as a good film that loses money," one of them asks. No wonder that when Fox arrives with the offer of a hot star and a hotter, preposterous script about male rape in prison that Mark Strong's tense and intense Gould grabs the chance. But true to the much-flaunted macho Hollywood ethic, Gould is more interested in grabbing that temporary secretary who ends up on his sofa at home that night. The scene is beautifully played as a power game in which the seductive Kimberley Williams, vehemence in her voice and craziness in her eyes, argues that the films Gould produces should raise the world's morale not his corporation's bank balance.
It's a weakness that Mamet does not allow us to see how Karen, a disturbingly misogynistic creation, works her persuasive magic. But Mamet powerfully communicates a sense of Hollywood as an adventure playground for suave, dimwitted thugs. Mark Strong's staring-eyed Gould is a compelling study of guile and authority reduced to gutlessness and panic. Patrick Marber is a talented playwright but he should steer clear of the acting arena. His performance reeks of physical unease. He sounds convincing in his climactic rage but his generally immobile stance, head slightly stooped, face kept almost invariably in profile staunches the flow of energy in this delightfully bilious Hollywood satire.