Loading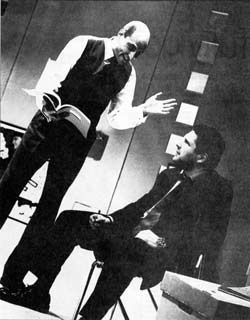 Cynics of the best
Patrick Marber is back on stage in a stupendous Mamet revival
Kate Kellaway, The Observer, Sunday March 19, 2000
Speed-the-Plow, New Ambassadors, London WC2
'Naive' is a monstrous euphemism: every time we meet the word in this stupendous production of David Mamet' Speed-the-Plow, we should sit up. 'Naive' equals moral, fearless, non-Hollywood. The 'naive' person in this three-hander, set in a Hollywood film producer's office, is Karen, a temporary secretary. In the first act she does look innocent — standing about self-consciously like a long-legged wader bird. She does not know how to hand out coffee, book a table at a restaurant or even drop a name. But wait.
Mark Strong plays Gould, the producer and top man and is entirely plausible as someone who has nothing to recommend him but his own power. He is a cipher. He is dry. He has no moral judgment. Fox (Patrick Marber) has no moral credentials either but is anything but arid: he has not yet got the promotion he wants. Marber plays him brilliantly. He is swarthy, irate, hilarious. He is beside himself with triumph — and awe — at having bagged a star with the comically unprepossessing name of 'Doug Brown' to make a 'prison movie'. The story of the movie? Who cares?
It is ironic that the script lying on Bob's desk to be given 'a courtesy read' should be about the end of the world. Read aloud, it sounds like The Watchtower in novel form. Re-enter Karen (Kimberly Williams) as a force to be reckoned with. Gould has asked her to to read the script but his motivation is to seduce her.
The second act, at Gould's house, is fascinating because Mamet never oversimplifies. He gives Karen the right words, set to the wrong music. She argues for quality and passion, but with the help of a lousy book. She is dazzled by it. Williams is superb: her nervous posture has gone. It is as if she had melted between acts; she is translated by her own enthusiasm. Her rapture is described as 'naive', but there is — even so — a sense that Gould's cynicism might actually be in the balance. There is a big, predatory painting of a snarling tiger behind the sofa (The Jungle Book gone oriental). The question that hangs fire is: is it possible to be seduced by an idea?
Mamet never sets up adversarial situations that are too heavily weighted on one side (think of Oleanna). And, in the final act, it is anyone's guess what will happen. Peter Gill directs with concentrated relish and the tension never lets up. John Gunter's set nicely suggests that Bob's disregard for aesthetic choice extends even to the paint colours for his new office. The play is set in 1988 — which is when it was written — but it is in no way dated. It is about moral cowardice and its stresses. It is funny, depressing, convincing as ever. Will Karen survive as a fresh breeze in a world where everything, including the air, has been conditioned?