Loading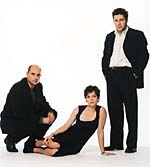 Nervous Kimberly plows on
Speed-the-Plow
By David Mamet. Director: Peter Gill. Patrick Marber, Mark Strong, Kimberly Williams
by Kimberly Williams
The Evening Standard Metro Section, 8 March 2000
My gosh, I've been sick all day. I don't think my body can handle this. But that's always how I get before an opening night. And then, I walk into another play... But what a play. The more I work on it, I see what David Mamet has woven together. I have so much respect for Mamet. At first his words are impossible to learn! But when you finally get them down, once you get the feel, the rhythm, they are easy. They just spill out of your mouth, because they are so natural, and so well-written.
Speed-The-Plow is about power-lust and paranoia in Hollywood. My character, Karen is a secretary to these two Hollywood players, Bobby Gould (Mark Strong) and Charlie Fox (Patrick Marber). Patrick is wonderful. Really smart. In act two, just Mark and I are on stage, and we have a lot of fun together. I've worked with Mark before on the film Elephant Juice, which was shot over here.
I try to distance myself from Hollywood. It's an exciting place — there is glamour, movies get made — but it is terrifying. There's a lot of rejection, a lot of hot-and-cold back-stabbing. I decided to go back to college after appearing in Father Of The Bride. Luckily I had a wonderful agent who really supported me, only sent me scripts which she thought were fantastic, and allowed me to say no to almost anything.
I didn't see Speed-The-Plow on Broadway when Madonna played Karen. And when I did Father Of The Bride I didn't watch the first version with Elizabeth Taylor until we were done shooting. I think I'm very impressionable. I like to just do my own thing before I see what other people have done.