Theatre review: The York Realist
The Lowry, Salford Quays, November 2001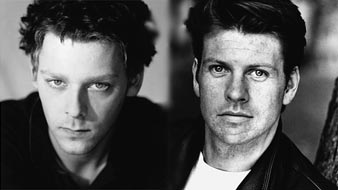 Excellent theatre is a delicate balancing act, where no actor must outdo another on stage and the script should test but not lose it's audience. The English Touring Theatre production of Peter Gill's new play, The York Realist, manages it with seemingly effortless ease.
It's a tender story of a complex love that crosses backgrounds and social boundaries, set in an early 60's rural village outside York, juxtaposing Richard Coyle's John, a middle class assistant theatre director from London, with Lloyd Owen's George, a working class farm labourer, as they struggle with their relationship.
Backed by a strong cast, with Anne Reid as George's mother being particularly good, the lead pair delivered an emotional and exciting performance that delved straight to the heart of the conflicts that exist between lovers from different classes.
Together, they live in an almost idyllic world where George's disarming ease with his sexuality takes away John's fear of being caught (this is, after all, the early 60's, when gay men could still be jailed), but when John has to leave the rural idyll to return to his life in London, his request that George comes with him rears up the differences between them.
Gill has captured the divides between the classes very well. Where John thinks George should give up his farm life and pursue his obvious acting talent in London, George sees a different way, happily shackled to his mother's home by his self admitted lack of ambition. What is left is a desolate gap which neither can bridge, despite their love.
Had Owen and Coyle been on an unequal footing, this could have been a good idea unrealised, but they are the perfect foil for each other, creating the aching longing and unbudging stubbornness of John and George brilliantly.
A play of gentle everyday humour and honest anguish, The York Realist is a real must-see, especially to witness the electricity between the leading pair.