Loading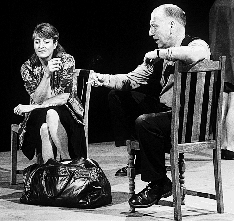 Welshing on the past
Peter Gill's absorbing new play
Benedict Nightingale of The Times reviews Peter Gill's Cardiff East, Cottesloe, 14 February 1997
OLD Annie looks after Charlie whose son is unemployed Billy who is unhappily married to Shirley who is despised by everyone but Michael who is brother to Marge who is mother to Tommy who is enjoying a gay liaison with Neil whose mother is Dolly whose close friend is Vera who gossips about Stella who has been abandoned by her husband Len and worries about their son Darkie who is having an affair with a single mum called Carol. Unsurprisingly, I spent much of Peter Gill's new play with a squint, since my left eye kept having to check the cast-list. Surprisingly, maybe, my right eye and the grey matter behind were kept pretty rapt throughout.
Imagine an EastEnders, Cardiff-version, that has been deprived of a plot and, apart from an act of violence at the very end, of much in the way of event. Or a set of Studs Terkel's interviews being shuffled, thrown into the air and dropped piecemeal on a stage. Or Under Milk Wood translated into more realistic dialogue and transposed to a housing estate that, as the backcloth indicates, sprouts unappetisingly from what was once scrub and marshland. You still haven't quite summed up Peter Gill's impressionistic picture of working-class Cardiff in 1997.
There has always been a strong puritan strain in Gill's work, whether he is working as dramatist or director. Here he is both, which is why most of the cast spend most of the play impassively watching their colleagues doing their stuff on and around an array of stark chairs and a large double bed. It is also why, for all its energy and flashes of humour, the play earnestly warns that Wales is in danger of becoming a gaudy theme-park in which there is scant hope for families, communities and the old solidarity.
Change is all around, little of it for the better. Outside the city, dairy farms are becoming golf courses. Inside, the young are surreptitiously turning to crack, and divorce, once regarded as a middle-class indulgence, is getting common. The play's tone is apt to become nostalgic, especially when Gwenllian Davies's good-natured Annie is in full flow; but the serious point is that these people still have some sense of their history.
Most of them can also rely on each other's support when the going gets tough. Stress is everywhere. Melanie Hill's Shirley talks dementedly of falling apart, so angry is she with Mark Lewis Jones's helpless, drunken Billy. June Watson's Stella, who has lost her other son, cannot bear to let Andrew Howard's Darkie out of her sight, and he, too, is near collapse. All four actors superbly convey the chaos and despair of not knowing what they feel and want.
But then Gill's cast is consistently excellent, from Susan Brown's kindly but unimaginative Marge through Matthew Rhys's anarchic young Tommy to Kenneth Cranham as the local guru, Michael. His language is apt to get sermonising as he orchestrates discussions on Welshness and the Church; but then he is an anguished ex-priest, so maybe the didactic tenor is understandable. In any case, as those who saw the NT's An Inspector Calls will know, Cranham can make severity passionate and zeal humane. Much the same can be said for Gill's play as a whole.