Loading
Thomas Otway
1652-1685
The Poet's Complaint of his Muse, 1680
I am a Wretch of honest Race:
My Parents not obscure, nor high in Titles were;
They left me Heir to no Disgrace.
My Father was (a thing now rare)
Loyall and brave, my Mother chast and fair.
Their pledge of Marriage-vows was onely I;
Alone I liv'd their much-lov'd fondled Boy:
Thomas Otway was born on 3rd March, 1652, in the small village of Milland, Sussex. He was the only son of Humphrey Otway's first marriage but he had a stepsister Susanna, daughter of Humphrey Otway and his second wife Elizabeth. Nothing is known of Thomas' own mother except that she must have died when he was very young. Humphrey Otway was rector of All Hallows at Woolbedding, Sussex, and the family, though not great, was of some distinction, being of old Yorkshire stock, with the inevitable Irish connections of the English comic dramatist.
At the age of 13 he was entered for Winchester College. Once there, he struck up an acquaintance with Anthony Cary, later Lord Falkland. This friendship was to last all Otway's life; and indeed at Winchester Falkland seemed to have exerted more influence on Thomas than his master, especially urging him "not to be ashamed of idleness". Not surprisingly, Thomas twice missed a scholarship and went to Oxford as a commoner of Christ Church in 1669. His father died in 1671 and at the age of 19 Tom moved on to the more immediate rewards of London.
To Britain's great Metropolis I stray'd,
Where Fortune's generall Game is play'd;
I mist the brave and wise, and in their stead
On every sort of Vanity I fed.
His first play, "Alcibiades" was published in 1675.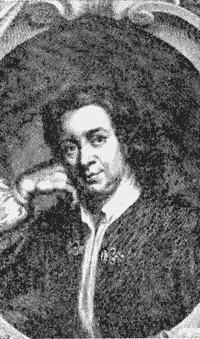 His first job in the theatre was as an actor in a play by Mrs. Aphra Behn. She had given up her voluntary services in Continental espionage in order to revive her first play "The Forced Marriage". Betteron, already middle-aged, played the youthful lover while young Otway was cast as the doddering old king. He was a notable failure.
"Mr. Otway the Poet having an Inclination to turn Actor; Mrs. Behn gave him the King in the Play, for a Probation Part, but he being not us'd to the Stage; the full House put him to such a Sweat and Tremendous Agony, being dash't, spoilt him for an Actor."
Some say that this was his first and last appearance on the stage but it is thought he went on playing bit-parts for two years. However, that particular show resulted in something much more personally disturbing than' the bad notices of his performance.
Tom Otway came next, Tom Shadwell's, dear Zany;
And swears for Heroicks, he writes best of any;
Don Carlos his Pockets so amply hath fill'd,
That his Mange was quite cur'd, and his Lice, were all kill'd.
But Apollo, had seen his Face on the Stage,
And prudently did not think fit to engage,
The scum of a Play-house, for the Prop of an Age.
from A Session of the Poets by the Earl of Rochester, 1647-1680
The part of Draxilla in that play was played by a 17-year-old girl called Elizabeth Barry, eventually to be the English Theatre's first leading lady. Despite, or possibly because of, a plump, unhandsome appearance and a strong tendency only to speak with one side of her mouth, it is said she did have a considerable presence and was thought a remarkable tragedienne. Thomas fell in love with her; a passion that was to last all his life. She, however, was the mistress of John Wilmot, Earl of Rochester, the poet to whom Otway dedicated "Don Carlos", a heroic tragedy, his first success. But like other poets, Dryden, Settle and Crowne, who had sought the Earl's patronage, Otway was soon to be the object of his ridicule and satire.
Nevertheless, Otway enjoyed a certain popularity especially with the ladies; 5' 7" "but with a thoughtful speaking eye; inclineable to fatness" (a feature later to prove something of an oddity, since the less he had to eat, the fatter he became.) Mrs. Behn said, "Everyone knows Mr. Otway's good nature, which will not permit him to shock any of our sex to their faces." But there were some whose feelings were less warm. Otway and Dryden lived in houses which faced each other and, one night Otway inscribed on Dryden's front door:—
"Here Dryden lives — a poet and wit".
Next evening appeared on his own door:—
"Here Otway lives-exactly opposite".
"Friendship in Fashion", his first comedy, had a small but warm first night at the Duke's Theatre in 1678 but was hissed off the stage at the only known revival in 1708 at Drury Lane. Of the three comedies he wrote, only "The Soldier's Fortune" boasts several revivals and that was last seen in London in 1935 at the Ambassadors Theatre.
Early 1678 sees Otway obtaining a commission through the Earl of Plymouth, one of the natural sons of Charles II and Louise De Querouaille, to whom he dedicated "Venice Preserv'd". With his regiment Otway sets out for military service in Flanders. An unexpected peace treaty soon interrupted the course of the war, causing the troops to be disbanded and Otway's return to England with "naught but drums and trumpets in his head", materially no better off than before. Such a frame of mind brought him into contact with Jack Churchill who was to become the first Duke of Marlborough. "Churchill, for beating an orange wench in the Duke's Playhouse, was challenged by Captain Otway (the poet) and were both wounded, but Churchill most". This pugnacity along with a strong resentment to the general treatment of disbanded troops finally found an outlet in the autumn of 1683 in "The Soldier's Fortune", with Betterton as Beaugard and Mrs. Barry as Lady Dunce.
When the Earl of Rochester died in 1680, he assumed, not unreasonably, that his turn with Elizabeth Barry had come at last. However, Rochester's death only revealed that Elizabeth was also the mistress of Sir George Etherege, who wrote one of the earliest Restoration comedies "The Man of Mode", based on the personality of the Earl of Rochester. Elizabeth, it seemed, preferred her poets to have titles.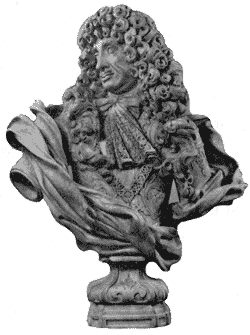 Early in 1682 "Venice Preserv'd" was produced for the first time with Mrs. Barry in the lead as Belvidera. It was a huge success; partly due to its bearings on the Popish Plot and because of its portrait of the Earl of Shaftesbury as the kinky old Senator, Antonio. It is the only tragedy of its period to have been played consistently ever since.
On the verge of theatrical and financial prosperity Thomas had a last go with Elizabeth. She promised to meet him in the Mall but, like so many times before in the early years in St. James's Park, she stood him up. He sent her a letter:—
You were pleased to send me word you would meet me in the Mall this evening, and give me further satisfaction in the Matter you were so unkind to charge me with; I was there, but found you not, and therefore beg of you, as you ever would wish yourself to be eased of the highest Torment it were possible for your Nature to be sensible of, to let me see you some time to Morrow, and send me word by this Bearer, where, and at what Hour you will be so just as either to acquit or condemn me; that I may hereafter, for your sake, either bless all your bewitching Sex; or as often as I henceforth think of you, curse Womankind for ever."
Eventually Otway gave up. Desperate want and poverty followed. "The Atheist", a sequel to "The Soldier's Fortune" and his last play, appeared in 1683. He died at the age of thirty-three.
There are many colourful accounts of his death; the most popular, but not necessarily authentic, is that of Theophilis Cibber in Dr. Johnson's "Lives of the Poets". Hiding from his creditors in a pub on Tower Hill, Otway
"driven at last to the most grievous necessity, ventured out of his lurking place, almost naked and shivering, and went into a coffee-house on Tower Hill, where he saw a gentleman, of whom he had some knowledge, and of whom he sollicited the loan of a shilling. The gentleman was quite shocked, to see the author of "Venice Preserv'd" begging bread, and compassionately put into his hand a guinea. Mr. Otway, having thanked his benefactor, retired, and changed the guinea to purchase a roll; as his stomach was full of wind from excess of fasting, the first mouthful choked him and instantaneously put a period to his days."
He is buried in the churchyard of St. Clement Danes.
His Scepter and his P—— are of a length,
And she that plays with one may sway the other,
And make him little wiser than his Brother.
I hate all Monarchs and the Thrones they sit on,
From the Hector of France to the Cully of Britain.
Poor Prince, thy P—— like the Buffoons at Court,
It governs thee, because it makes thee sport;
Tho' Safety, Law, Religion, Life lay on't,
'Twill break through all to it's way to C——.
Restless he rolls about from Whore to Whore,
A merry Monarch, scandalous and poor.
On King Charles, ascribed to the Earl of Rochester, for which he was banish'd the Court and turn'd Mountebank.
Oh Happy Age! Oh times like those alone,
By Fate reserv'd for great Augustus throne!
When the joint growth of Arms and Arts foreshew
The World a Monarch, and that Monarch You.
From Astraea Redux John Dryden, 1631-1700
Plays
"Alcibiades"

a tragedy, 1675;

"Don Carlos"

a tragedy, 1676;

"Titus and Berenice"

a tragedy, 1676, adapted from Racine's "Berenice";

"The Cheats of Scapin"

adapted from Moliere's "Les Fourberie de Scapin", 1676;

"Friendship in Fashion"

a comedy, 1678;

"Caius Marius"

a tragedy, 1679;

"The Orphan"

a tragedy, 1680;

"The Soldier's Fortune"

a comedy, 1680;

"Venice Preserv'd"

a tragedy, 1682;

"The Atheist"

or "The Second Part of the Soldier's Fortune", 1683.
[See also the Thomas Otway biography from the Venice Preserv'd programme.]