Loading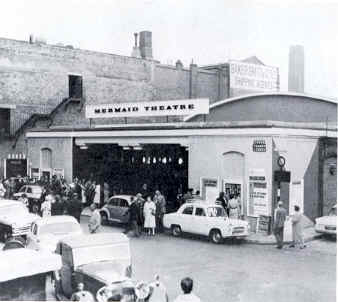 Mermaid Theatre
At six o'clock on the evening of May 28th, 1959, the bells of St. Paul's pealed out over the City of London to announce the opening of a new theatre-the Mermaid Theatre at Puddle Dock.
Nestling among the wharves and warehouses of the City and hugging the north bank of the muddy Thames just below Blackfriars Bridge, the 500-seat Mermaid Theatre is the first new theatre to be built in London for 30 years; the first to be built in the City for nearly 300.
It is built in the shell of a warehouse blitzed in the great fire raid on the City in 1941, the work being financed entirely by public subscription.
It was in October, 1956, that the City Corporation granted "Bernard Miles and other poor players of London" a lease of the Puddle Dock site - at a peppercorn rent. Then began a two-and-a-half-year battle to raise the money needed to build the theatre.
Slowly, as the building rose, the financial support mounted; cheques began to come in from banks, insurance companies, stockbrokers, shipping companies, engineers, the City livery companies, the great mercantile exchanges, from ordinary men and women allover the country, indeed allover the world, from Bread Street to Bulawayo.
For its inspiration this new theatre has looked back to the very roots of theatre — its stage is based on that of the Elizabethans; its single-tier seating on that of the Greek amphitheatres. Incorporating such modern features as a revolving stage, cinema projectors and stereophonic sound equipment; its foam rubber seats set between walls of Victorian brick, the Mermaid incorporates and blends tradition and progress to provide something refreshingly new and exciting.
The Mermaid Theatre
Puddle Dock, Blackfriars, London EC4
Licensed by the Lord Chamberlain

to Bernard Miles

Box Office

CITy 7656

Restaurant

CITy 2835

Founders and Artistic Directors

Bernard Miles and Josephine Wilson
The Mermaid Theatre Trust Ltd
Governors:

Leo Genn,S. Mervyn Herbert, Bernard Miles CBE, the Hon. Angus Ogilvy, Major Richard Smith, MC, Sir G.J. Cullum Welch Bt,OBE,MC, Josephine Wilson

Associate Directors:

Joss Ackland, Gerald Frow, Julius Gellner, Robert Gillespie, Robin Midgley, Sally Miles, Denys Palmer, David William

Musical Adviser:

David Katz